The 50s: Making Positive Transitions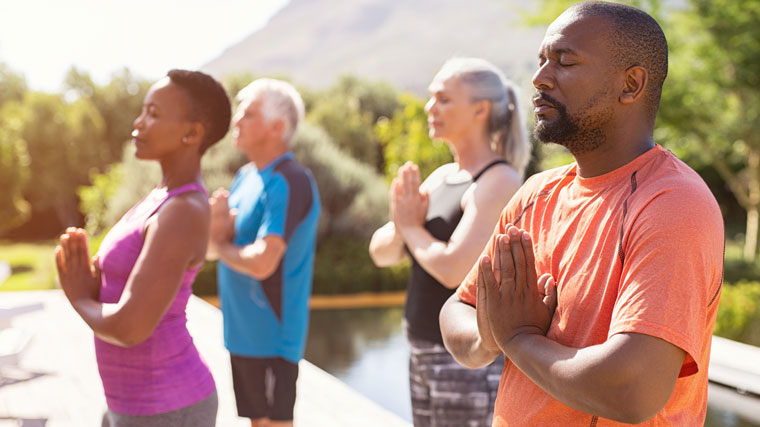 As you hit your half-century milestone, it's comforting to remember that being in your 50s has never held so much opportunity and promise.
It's a time to do some planning and position yourself well for the years ahead.
You may have children leaving the nest, parents who need extra attention or retirement plans to make.
From a health perspective, you need to be more aware of risk factors. Ask yourself, what do you want to be when you're 80?
This is a time to try to decrease risk as much as you can while you can.
Here are five good habits to cultivate as you set the course for your 50s and beyond:
1. Make positive lifestyle choices.
Obesity is one of the biggest health risks, which in turn contributes to heart disease, diabetes, cancer, and other illnesses.
Obesity creeps up on people. Studies show that a 7 to 10 percent reduction in weight makes a difference in improving cardiovascular health and conditions like hypertension and diabetes.
A lot of people aren't getting enough exercise. Regular exercise helps with weight, mental outlook, and even bone mineral density.
Doctors recommend at least 210 minutes of moderate exercise a week. To test if you're working hard enough, you should be breaking a light sweat or just barely able to talk in full sentences if you are with someone. Doctors also recommend two days a week of resistance training using weights or your own body weight.
Although the goal of 210 minutes can seem pretty daunting, anything is better than nothing. Building muscle mass and keeping your weight at a good level can also help avoid falls in your 60s and older.
Eating a healthy diet with fruits, vegetables, and lean meats is another key to good health and weight maintenance.
In addition, don't smoke. If you drink alcohol, significantly limit it. There's not a "safe" level of alcohol from a health perspective. And get seven to eight hours of sleep a night to function at your best.
2. Watch your numbers and get your screenings.
Key numbers to watch include:
Blood pressure. Ideally, less than 120/80; minimally, less than 140/90
Blood sugar. Less than 100
Lipids/cholesterol. Total less than 200; LDL less than 100; triglycerides less than 150; HDL (good cholesterol) greater than 50
Body mass index (BMI). Less than 25
As for health screenings, there's overwhelming evidence that colon cancer screening saves lives. Screening options include colonoscopy, a fecal immunochemistry test that checks for stool in the blood, or a Cologuard® test that identifies DNA markers for colon cancer.
Women in this age group should continue to get mammograms and Pap smears. Men should talk to their doctors about whether to get a prostate-specific antigen (PSA) test.
3. Keep a dialogue going with your doctor.
It's a good idea to see your doctor for a yearly physical not only to check your numbers, but also to discuss other issues that may be bothering you. Don't assume that problems you're having are a natural part of aging. Talk to your doctor about:
Struggling to get enough sleep because you're urinating more than one to two times a night, you have trouble falling asleep, or trouble getting back to sleep.
Hot flashes and vaginal dryness that come with menopause, if you are a woman. Your doctor can help. Many over-the-counter products aren't good for you, like black cohosh, which can raise your blood pressure.
Erectile dysfunction and its possible link to cardiovascular disease, or prostate problems.
Caregiving issues with an aging parent. You can't take care of others if you're not taking care of yourself first.
4. Pay attention to your mental and emotional health.
Job changes, ill parents, and children getting out on their own are often part of life in your 50s.
Maintaining positive, healthy relationships with family and friends creates a strong foundation for your emotional health.
Stay socially engaged. If you have concerns around mood or depression, discuss it with your physician. Also lean on your social support system to talk about concerns and stresses.
5. Plan for your future.
As you reach a 30-year career anniversary or you pay your last tuition payment, it's natural to start thinking about what comes next. It's time to be thinking about retirement planning and what you want to do for the next chapter of your life – what will give purpose to your life?
It's also helpful to have discussions about what you would want your family to do if you were unable to make your own decisions.
Your 50s are a good time to start thinking about end-of-life planning. Prioritize putting a durable power of attorney for health care and a living will in place.
No one wants to think about catastrophic events such as having a stroke or developing dementia. Yet, talking about those things now with your family can ensure that you get what you want down the road. And knowing they are fulfilling your wishes will provide family members with the confidence and security that they are doing what you would want them to do.