Ron's Story: Back in Action After Double Knee Replacement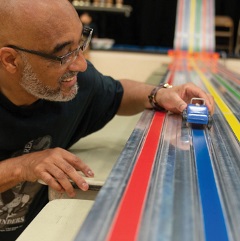 Ron Mainess had dealt with his troublesome knees for a long time. "They have been an issue for me since I was a college sophomore," he says. A wrestling injury led to left ACL (anterior cruciate ligament) repair surgery in 1988. Ten years later, Ron blew out his right ACL playing volleyball at a company picnic. While his first ACL repair had been a success, after the second, things didn't really get back to normal.

"I was never able to do the things I'd been able to do before that second surgery," he says. "I was in a lot of pain, going up and down stairs was tough, and the stability in my knees really began to change. I was so unstable that if someone just nudged me, I would lose my balance and go flying across the room. And I couldn't run anymore."
Ron is an active man — "I'm always going and doing," as he puts it — and his continuing knee problems were slowing him down. Over the years, he had tried a number of therapeutic approaches, and while they had provided some relief, the results had not lasted. Ron finally started to consider the possibility of knee replacement surgery. He spoke about it with doctors at Premier Health, where he works as a project manager.
After much thought, and talking things over with his wife, Ron decided to have both knees replaced. And rather than scheduling two separate surgery dates — replacing one knee first, undergoing therapy, and then replacing the second knee at a later time followed by more therapy — Ron opted to have the surgery on both knees at the same time. This is called a simultaneous bilateral knee replacement. The advantages of this approach include just one surgery date, one hospital stay, and one period of recovery and rehabilitation.
Ron's search for a surgeon ended when he found orthopedic surgeon Matthew Lawless, MD, at Premier Orthopedics.
Dr. Lawless explains that a patient becomes a candidate for knee replacement "when they have end-stage arthritis on their X-ray, as well as symptoms that limit them from doing the things they want to do and awaken them from sleep at night." He notes that the symptoms can no longer be controlled with anti-inflammatories, Tylenol, ice, physical therapy, or injections. Ron's history and physical findings met that criteria. "When Ron's arthritis got to the point where he was no longer able to control the symptoms and it was interfering too significantly with his life, the decision was made to proceed with knee arthroplasty (joint reconstruction or replacement)."
The choice to perform the replacement surgery on both knees at once was Ron's. Dr. Lawless says that he never offers simultaneous bilateral surgery unless the patient brings it up first. "I make sure they are the ones who initiate the conversation," he says. "They also must have no previous history of diabetes or cardiac disease, and if they do have high blood pressure, it has to be well controlled."
The knee replacement surgery was performed in February 2018 at Miami Valley Hospital South. His hospital stay was notable, Ron says, for the caring attention he received from the patient care technician who worked with him over the two nights he spent there. "I appreciated her being there for me and for my family," he says. "She really supported us, and it made all the difference."
After his surgery, Ron began a course of physical therapy. For the first few sessions, therapists from Fidelity Health Care visited Ron at home. After that, his therapy took place at Miami Valley Hospital South. "The process went well," Ron says. "The therapists showed me how to move my legs, how to get up and sit down, how to walk, and how to test my progress. They also taught me how to use a walker. After a few weeks on the walker, I moved on to a cane."
Ron plugged away faithfully at his rehab, and after a few months he was able to leave the cane behind as well.
"The first two weeks after knee arthroplasty are the most difficult," says Dr. Lawless. "That is when the knee is most sore and most stiff, but Ron was a very good patient, and he realized that doing the exercises is very important. After six to eight weeks, he was back doing most of the things he enjoyed with much-improved symptoms."
One year out from his surgery, Ron continues to make progress. He no longer attends outpatient therapy sessions, but he pursues his recovery at the gym. "I make sure I'm doing certain things," he says. "I get my bike riding in, my leg presses, and other exercises."
Some things can still be a challenge, such as going up and down stairs, but, he says, "that's certainly not the struggle it used to be, and it's improving all the time. There are things I can do now that I haven't been able to do for years. I'm not running yet, but I can see how it could eventually happen, at least to some degree."
Ron credits his wife, Krista, as being a major factor in his strong and continuing recovery. "She was pivotal in how this went," he says. "Her help and support mean everything. She worked hard around the clock to help make it work out. She is amazing."
And he's back to staying busy with the activities he loves, such as working with the local Pathfinder Club, an organization that helps young people develop leadership skills and encourages them to stay active in community service and self-development. The club often goes on fun outings. "We took them ice skating recently," Ron says. "But I didn't get on ice skates — not yet, anyway!"