Mandi's Story: Grateful For a Solution To Incontinence
Mandi Hansen, a 37-year-old mother of two little boys, loved the time she spent running – until she began experiencing incontinence. Mandi's honest account of her experience surprises many young women, including several of her friends who also told her that urine leakage was normal.
"But it was interfering with my life," she says. "I once kept a log and found I was urinating about 27 times a day, and still I would cross my legs when I laughed because I knew what could happen."
After putting up with the problem for more than a year, Mandi was thrilled to learn of a solution that William Rush, MD, a urogynecologist, discussed with her after an examination and testing.
Real Condition, Real Solution
"Mandi had pelvic organ prolapse, a condition that may result in incontinence," says Dr. Rush. "Pelvic organ prolapse happens when a pelvic organ, such as the bladder or uterus, drops – or 'prolapses' – from its regular spot and pushes against the walls of the vagina."
Minimally invasive gynecological surgery can correct pelvic organ prolapse, and in September 2016 Mandi had the procedure at Good Samaritan Hospital (closed in 2018).
"We lift the top and sides of the bladder and reattach it to the pelvis where it belongs. This is known as para-vaginal repair," Dr. Rush explains. "If ligaments holding the top of the vagina to the uterus are stretched out, we pull those up tighter. Plus, we push up the bladder and hold it with stitches. We also place a support under the urethra to keep urine from leaking with activity."
Dr. Rush adds that three main types of prolapse can be corrected with minimally invasive procedures:
Bladder (at the front of the vagina)
Top of the vagina (where the uterus is or used to be)
Back of the vagina (the rectal area)
Back to Life
"I spent one night at Good Samaritan Hospital after surgery and I couldn't believe how quickly I recovered," Mandi says. "I can keep up with my boys again! Plus, I operate my own organic house cleaning business and now I'm back to a full schedule."
"Twenty years ago, this type of surgery meant a sizable incision and three to five nights in the hospital," Dr. Rush points out. "Women who had the surgery many years ago may be discovering that the repair has, over time, started to diminish. A minimally invasive procedure might be the answer."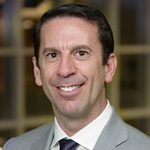 Contact Us
Our gynecologists are ready to help you get back to the things that matter most in your life. Find a provider near you, call CareFinders at (866) 608-FIND (3463), or consult our list of related practices.
Our gynecologists are affiliated with: