Cherrie and Tony's Story: Losing Weight Amid a Pandemic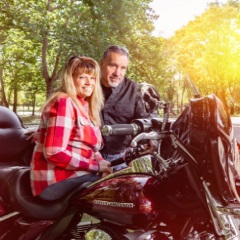 The little things in life became major obstacles for Tony and Cherrie Dippolito. The Englewood couple enjoyed spending time outdoors, riding their motorcycle, and being with their children and grandchildren. But as the years went by, so did their healthy lifestyle.
Tony, who is 55, weighed around 300 pounds and Cherrie, now 50, weighed 250 pounds.
"I was uncomfortable with myself, with the clothes I was wearing," says Tony. "It weighed me down."
"I had to force myself to go do something, when I really wanted to sit around and do nothing," remembers Cherrie. "We have a 7-month-old grandchild who we want to spoil rotten in the years to come. We want to stay healthy through the years so we can enjoy life together."
The pain and discomfort of being overweight drove the Dippolitos to seek help. In March 2019, Tony and Cherrie reached out to Premier Weight Loss Solutions and C. Joe Northup, MD, FACS, for guidance.
"We see patients who recognize how severe weight issues are to their overall health," explains Dr. Northup. "The inflammatory process of being overweight affects your whole life. This is why people have diabetes, joint pains, high blood pressure and cholesterol, and acid reflux. This all stems from the disease of obesity causing an inflammatory reaction."
Premier Weight Loss Solutions offers patients both surgical and non-surgical options to help them achieve their personal goals.
Tony, who tried changing his diet and exercise routine, realized it wasn't enough to meet his weight loss objective. After six months, he began working with Dr. Northup on a plan to regain his freedom. He decided it was time to undergo a laparoscopic vertical sleeve gastrectomy, also known as a gastric sleeve.
During Tony's sleeve gastrectomy surgery at Miami Valley Hospital, Dr. Northup removed about two-thirds of his stomach, creating a tubular stomach about the size and shape of a banana. The portion removed is responsible for producing a hormone called Ghrelin, which causes hunger. Without the hunger hormone, Tony's appetite was greatly reduced.
"I was sore for a little bit after the surgery," remembers Tony. "After that, the diet I was on was a little difficult. But soon after, it wasn't bad at all. What I could eat before versus what I can eat now is an unbelievable difference. Now, if I get a salad and a dinner, I usually only eat the salad and bring my dinner home. The dinner ends up being two or three meals."
Cherrie, on the other hand, decided to participate in Premier Weight Loss Solutions' non-surgical option, which focuses on education and behavioral changes to lose weight. This program offers dietary plans, meal replacement programs, weight loss medications, and diet and exercise counseling.
In less than a year, Cherrie was able to drop nearly 80 pounds from changing her diet and exercising. Now, she walks nearly 10 miles a day and has participated in several half-marathons.
"I could've never done that at all before the weight loss," says Cherrie. "I started walking and going to the gym. I started in a size 18-20 in jeans and I'm in a size eight, so that's a big accomplishment."
With their weight loss journeys on the right track, everything came to a screeching halt for Tony. In March 2020, he became one of the first people in Montgomery County to contract the novel coronavirus, also known as COVID-19.
"I felt a little bit feverish and I went to bed early," says Tony. "The next morning, I started feeling really hot and dizzy. I actually passed out when we got to the urgent care. They took me to the hospital, and they couldn't even find a vein. I had a temperature of 100.8 degrees."
Tony was sent home to rest and within hours he began to feel better.
"I was nervous," remembers Tony. "It was all new. Nobody knew exactly what was going to happen. I took it day-by-day and kept on monitoring myself and I was fine."
The coronavirus has killed more than 210,000 Americans during the current pandemic (as of early October 2020). However, Tony was one of the lucky ones. He believes he only contracted a mild case of the virus.
"I honestly never thought it would happen to me," says Tony. "My attitude was that I was never going to get it. But I did. I was one of the lucky ones where it didn't affect me as much as others."
Tony credits his weight loss and healthier lifestyle to surviving COVID-19.
"If I still had the weight on me, I definitely believe that would have played a factor on me and my recovery and symptoms," explains Tony.
Down 83 pounds in 10 months, Tony says his weight loss has eliminated some major hurdles.
"I had diabetes, I don't have to take any more medication for that," explains Tony. "I had high blood pressure, I'm off that medication. I had sleep apnea, I'm off my CPAP machine. That really helped with all of that."
With the support of their family, Cherrie and Tony are working toward their goal of spending more time outdoors, riding their motorcycle, and with family.
"Our daughter is excited for the both of us," says Cherrie. "She saw us losing the weight and how we've gotten healthy. Now that we have a 7-month-old granddaughter, we want to be able to be active and enjoy our time with her. We want to take her camping and go hunting and fishing with her grandpa."
"I quit hunting for a while because my knees hurt so bad and I wasn't able to walk very far," explains Tony. "There was no way I could've done that with my weight before. I'm looking forward to getting back to hunting, fishing, and all of the things that I enjoyed when I was younger and slimmer."