Atrium Medical Center Named a High Performing Hospital for Maternity Care
"High Performing" Highest Rating Awarded by U.S. News & World Report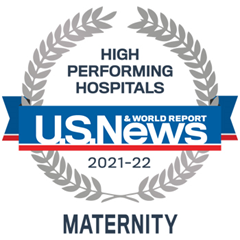 MIDDLETOWN, Ohio (December 7, 2021) – Atrium Medical Center has been recognized as High Performing in Maternity Care (Uncomplicated Pregnancy) by U.S. News & World Report. This is the first time U.S. News has published a list of Best Hospitals for Maternity. "High Performing" is the highest rating U.S. News awards for maternity care.
To be recognized among the Best Hospitals for Maternity, hospitals had to excel on multiple quality metrics that matter to expectant families, including complication rates, C-sections, whether births were scheduled too early in pregnancy, and how successfully each hospital supported breastfeeding. Only one-third of the hospitals evaluated by U.S. News for maternity care earned a high performing rating.
"Earning the highest rating for maternity care is verification of the outstanding talents and demonstrated commitment to mothers and babies in the obstetric unit," said Keith Bricking, MD, president of Atrium Medical Center. "Atrium's compassionate maternity team takes care of these special patients like each is family, creating a positive birthing experience.
The Family Birth and Natural Beginnings Birth Center at Atrium Medical Center combines the comfort of home with advanced technology and an experienced medical staff. The comprehensive maternity care available features flexible birthing options, including natural births; private birthing suites that include a jacuzzi; certified nurse midwives; board-certified lactation consultants who provide breastfeeding instruction; childbirth education classes; and an FBI-reviewed security system that tracks every baby's movement within the hospital.
"All families deserve to be informed on how hospitals perform on key indicators of quality, which is why U.S. News has compiled and published a trove of maternal health data from hospitals across the country," said Ben Harder, managing editor and chief of health analysis at U.S. News & World Report. "The hospitals we've recognized as High Performing meet a high standard in caring for patients with uncomplicated pregnancies."
The evaluation looks at hospital data relating to only uncomplicated pregnancies, not high-risk pregnancies. Participating hospitals responded to a survey from the U.S. News health analysis team in spring of 2021, which reflects data from 2019. Participation was voluntary.