Sacroiliac Joint Pain Mimics Other Common Back Conditions
Childbirth, previous surgery place adults at risk for condition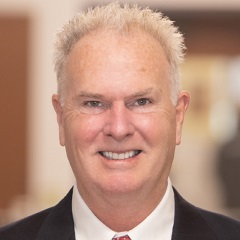 DAYTON, Ohio (December 13, 2019) – There's no mistaking when lower back pain strikes, but its causes can be a bit more elusive for many adults.
The National Institutes of Health (NIH) estimates that about 80 percent of adults will experience lower back pain at some point in their lifetimes. It's the most common cause of job-related disability, and one of the top reasons people miss work. Still, the path to understanding its source can take time before the proper treatment can be prescribed.
Sacroiliac joint pain is one of several conditions that can cause lower back pain. A person suffering from the condition might feel pain in their lower back and buttocks region, and often experience pain or numbness radiating down one or both legs. Sacroiliac joint pain is often misdiagnosed because its symptoms mirror that of other well-known conditions, said David Propst, DO, an orthopedic surgeon with Premier Orthopedics.
"It's commonly mistaken for conditions such as a herniated disc in the lower back or lumbar spinal stenosis – both of which cause lower back pain," said Dr. Propst, who practices with Premier Physician Network.
The sacroiliac joint is made up of the bottom part of a person's spine and a portion of their pelvis. Unlike many other joints in the body, the sacroiliac joint has a limited range of motion, which helps it to absorb stress in the back. Pain occurs when the joint experiences an increase in motion or is forced to take on too much stress, according to the North American Spine Society.
This first line of treatment for sacroiliac joint pain is the use of anti-inflammatory medications and physical therapy, which is best prescribed by a person's primary care provider.
"As long as a person isn't experiencing weakness in their legs, then they should first seek the help of their primary care doctor for lower back pain," Dr. Propst said. "If they experience weakness or there is no improvement over time, then they should seek the advice of an orthopedist."
An orthopedic doctor will often inject a numbing medication into the joint. The medication has a two-fold purpose: It confirms a definitive diagnosis that the joint is the source of the pain, and, in as many as 40 percent of cases, it provides long-term relief to the person suffering from the condition.
There are many different reasons that individuals develop sacroiliac joint pain. Up to 80 percent of people who develop the condition are female and in their 30s.
"Childbirth is a leading factor due to the hormonal changes that can cause ligament laxity," Dr. Propst said. "Childbirth can also cause the woman's pelvis to expand a bit, but in some cases it can fail to contract back to its original size."
Medical procedures can also lead to sacroiliac joint pain. Dr. Propst said he often sees patients develop the condition after undergoing a hip replacement surgery. This is because the surgery requires force on the joint in order to dislocate a person's diseased hip. A lumbar spine fusion – a procedure that fuses two or more vertebrae – can also lead to the condition because it places significant stress upon the sacroiliac joint.
Patients who do not respond to anti-inflammatory medications, physical therapy or the joint injection may be a candidate for the sacroiliac joint fusion, a minimally invasive procedure that inserts titanium implants to provide stability and support.
For more information about sacroiliac joint pain or to schedule an appointment with a Premier Physician Network physician near you, visit PremierHealth.com/MakeAnAppointment.