The Need for A Breast Biopsy Doesn't Always Mean Cancer is Inevitable
Biopsies provide closer look into changes seen in yearly breast imaging or exams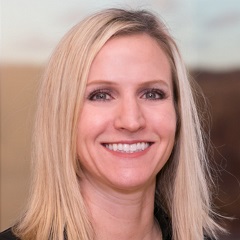 DAYTON, Ohio (October 14, 2019) – The power of early detection and use of mammography imaging empowers many women in their fight against breast cancer.
Mammograms are able to reveal areas of concern that might not even be detected through a routine exam, leading doctors to take a closer look through a biopsy of the breast tissue. A breast biopsy is a vital tool for clinicians to help ensure an accurate diagnosis and tailor a personalized treatment plan if cancer is detected.
"A biopsy is ordered with any new changes that are detected in the breasts, whether it's a lump or an abnormal mammogram," said Michelle DeGroat, MD, FACS, a surgeon with Gem City Surgeons. "We are really paying attention to anything that changes. We perform biopsies if we see something that is different from year to year or distorted on a mammogram; if there's a mass, or if there are abnormal calcifications that may be new based upon prior mammograms."
Two types of biopsies involve the use of a needle, which is inserted into the breast to sample targeted breast tissue. The first uses an ultrasound machine to visualize and guide the needle toward a specific location. The second is a stereotactic biopsy, which uses X-rays and a mammography machine to guide the needle. Ultrasound-guided biopsies are typically ordered when a mass has been detected, whereas stereotactic biopsies are done to investigate micro calcifications that are seen during a mammogram.
Timing of results can vary, but Dr. DeGroat said it can take anywhere from 48 to 72 hours. She is also quick to add that just because a biopsy is requested doesn't mean a cancer diagnosis is inevitable.
"We try not to overdo biopsies because we know it causes a lot of anxiety and stress to the patient when they find out they need one," said Dr. DeGroat, who practices with Premier Physician Network. "We strive to make the experience as comfortable as possible, first by numbing the location of the needle entry site and then by numbing the general area where the sample is being taken. There may be some initial discomfort, but the patient shouldn't have any pain during the procedure itself."
According to the American Cancer Society, approximately one in eight women in the United States will develop invasive breast cancer within their lifetime – the second leading cause of cancer death among U.S. women today.
Breast biopsies remain a critical tool to help equip physicians and their patients with accurate and timely information that can be used to not only diagnose but ultimately overcome this disease. As treatment options become more improved and research continues to expand, breast biopsies play an important role in producing better outcomes.
For more information about breast biopsy or to find a Premier Physician Network physician near you, visit www.PremierPhysicianNet.com/Provider.