Sports Physicals and Well-Child Visits Not Interchangeable
Both physicals address specific needs in a child's ongoing health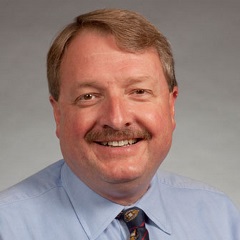 DAYTON, Ohio (June 17, 2019) – When it comes to scheduling exams for your child, understanding the differences between a sports physical and an annual wellness visit can have a significant impact upon their health.
"Though sports physicals and well-visits are meant to happen annually, many mistakenly see them as interchangeable," said Michael W. Barrow, MD, a sports and family medicine physician with Premier Health Family Care North. "In general, a well visit doesn't consider if someone's going to be participating in a specific sport. Evaluating a 15-year-old that is just getting ready to start school is different than evaluating a 15-year-old that's going to be playing football or hockey."
A sports physical is an exam that's done for the specific purpose of evaluating a young person's readiness to participate in a sport, and they will differ according to their chosen sport's specific function. For example, the exam a physician does for a potential baseball or softball player will likely differ from the exam they would administer to a football player or cross-country athlete.
Multi-sport athletes don't need to get a new physical completed every season. Their physician can often examine them thoroughly in one yearly visit to determine their overall fitness and identify areas of concern to help them avoid injury or additional endangerment to their health.
"Let's say we have an athlete with hamstring tightness and they're going to be running track. If we can identify that early enough we can take them through the proper therapy," said Dr. Barrow, who practices with Premier Physician Network. "If we detect something such as a heart murmur that needs further evaluation, it gives us time to administer tests to evaluate and determine it's safe for them to participate in their sport or not."
Ideally, sports physicals should be done at least six weeks prior to when the athlete will be starting practice. That way, any conditions that need rehabilitation or further evaluation can be addressed and hopefully resolved prior to starting the sport.
"Unfortunately, when the physical is done the day before or of practice starting, any condition that is detected could delay an athlete's participation in their chosen activity," he said.
Despite the sports physical's effectiveness, it also has its limitations. Parents are advised not to ignore the importance of also scheduling an annual wellness visit for their children, which is recommended for patients up until they reach the age of 22, or when they would typically complete college. Well visits are essentially designed to assess a young person's overall health and provide them with a health maintenance update. These visits allow doctors to administer key vaccinations and tests, and to also assess their patient's emotional and mental health for signs of stress, anxiety or depression. Doctors can also use this opportunity to discuss the dangers of certain high-risk behaviors.
"The needs are different for each child," Dr. Barrow said. "But well visits allow us to try to kind of figure out where they are, and offer helpful advice that we refer to as anticipatory guidance. In essence, we try to address problems before they might even take place. A sports physical simply doesn't allow us to keep an eye on things like vaccinations or address these other issues. On the other side, a well visit doesn't allow us to focus on the needs of a specific sport that a child will be playing."
Dr. Barrow encourages parents to schedule both well visits and sports physicals with their child's family physician, since their doctor will likely have a better understanding of the child's background and health history and can help them make more informed decisions about their child's future. Many practices can schedule both a sports physical and annual wellness visit at the same time for convenience.
For more information about sports physicals or well visits, or to find a Premier Physician Network physician near you, visit www.PremierPhysicianNet.com.