Treatment to Prevent Spring Allergies May Need to Begin Earlier
Environmental changes can cause allergy symptoms to surface earlier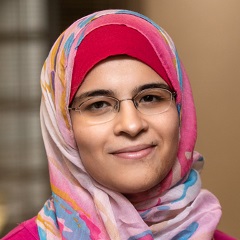 DAYTON, Ohio (March 11, 2019) – Spring allergy season is demanding a spot a little earlier on the calendar each year as environmental changes lengthen growing seasons.
"Trends in global warming are creating longer growing seasons for noxious weeds and other plants that trigger seasonal allergies and asthma attacks," said Quratulain Aziz, MD, a primary care physician with Fairfield Road Physician Offices. "I might have patients who complain in February about seasonal allergies that they normally would not experience until April. This can be confusing to them, but it may be related to a warmer or shorter winter season."
If you feel your allergies have gotten worse with every passing spring, you may be on to something. A recent study in the Annals of Allergy, Asthma and Immunology, said that pollen counts are slowly on the rise and expected to double by the year 2040. Contributing factors include economic growth, global environment sustainability, temperature, and human-induced changes such as increased levels of carbon dioxide, the study said.
So what does this mean for the average allergy sufferer? It's good reason to seek the advice of a health care provider before the first signs of spring pop through the frozen ground. In fact, those who have a history of spring allergies may want to start medications as early as February, said Dr. Aziz, who practices with Premier Physician Network.
Spring allergies stem from many different causes, making it difficult to point to one culprit. The biggest contributors are flowering trees that release pollen into the air. Nearly a dozen trees release allergens in the spring season, according to the American Academy of Allergy, Asthma and Immunology (AAAAI). Oak, western red cedar, sycamore, maple and birch are just a few that can cause someone's eyes and nose to react in a negative way.
"Normally people breathe in these substances with no problem," Dr. Aziz said. "But in a person with seasonal allergies, the immune system will initiate a reaction against the inhaled allergens. This is what causes the symptoms we have come to associate with spring allergies. The mucosal inflammation of the eyes, nose and throat are all driven by these immune cells."
It's not always necessary to be tested for allergies, but it can help in creating a specific treatment plan. The best test is a skin prick test, which is conducted by an allergy specialist. The test is done in a controlled environment and involves small pricks to a person's skin to allow their blood to come in contact with the different allergens. Individuals who have an allergy to one or more of the allergens will see their skin around the prick become red and bumpy.
You don't have to be tested for allergies to seek treatment, and many allergies can be self-managed with over-the-counter medications. Dr. Aziz said treatment can vary:
Antihistamines – These over-the-counter medications are good for individuals who have general allergy symptoms such as a runny nose or watery eyes.
Allergy shots – These are given in a doctor's office and are usually made-to-order for a patient according to the allergens that cause their reaction. Allergy shots change how a person's immune system reacts to an allergen.
Steroid nasal spray – This can be used a week ahead of allergy season so that when allergies kick in, the body is ready to react.