Post-Baby Intimacy May Look Different For Couples
Women need time to heal, encouragement to take time for themselves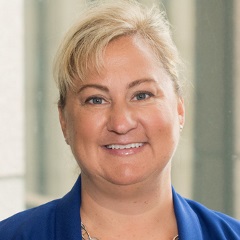 DAYTON, Ohio (March 11, 2019) – Welcoming a new baby into the world means big changes for a mom and dad including how they approach intimacy with one another.
There are recommendations as to how soon after childbirth a couple should have intercourse, but in the end, a woman's physical and emotional wellbeing will likely say when she's ready.
"The biggest thing I hear from women is that they are tired; they're exhausted," said Stacy Hudepohl, a certified nurse midwife with the Center for Women's Health and Wellness in Mason. "They're not used to getting only a couple of hours of sleep a night and they're caring for a newborn."
Hudepohl said it can also be a struggle for a woman to transition between her role as a new mom and investing in her relationship with a partner or spouse.
"While couples treasure their baby together and realize the strength that it brings, they also need to remember not to lose sight of their relationship as well," said Hudepohl, who practices with Premier Physician Network.
Hudepohl encourages new moms to take steps to care for themselves and to carve out time with their significant other. She said moms often need to know they have permission to get a babysitter and step away from her role as a mom for a couple of hours. Scheduling a date night with her significant other can help a couple to focus on one another and begin rebuilding the intimacy they had before their baby arrived.
Physical intimacy may feel different at first for a woman. Health care professionals recommend that a woman doesn't engage in intercourse for at least six weeks after having a baby. This allows time for healing to take place.
"We often think of the vagina as being the main area to heal, but we need to remember that much more was involved in childbirth," Hudepohl said. "A woman's uterus was exposed and her cervix was open. The vagina actually heals very quickly."
Intercourse may feel differently the first couple of times after giving birth, and for that reason, Hudepohl suggests women keep the following in mind:
Lubricant may be needed – Breastfeeding can cause vaginal dryness. Using a lubricant the first couple of times can help as well as alleviate any physical hesitation a woman may feel.
There can be discomfort – It's normal for intercourse to feel a little uncomfortable after childbirth. However, it should never be painful. A woman should consult her health care provider if sex causes pain, itching or burning during sex.
Men are affected too – Childbirth doesn't just affect the way a woman approaches sex. Men may also struggle with wanting to know when women are physically ready.
Family planning is a priority – It is a common misconception that a woman isn't fertile while she is breastfeeding. However, that couldn't be further from the truth. It's hard to know when a woman first ovulates following childbirth, which makes it important for a woman to talk to her health care provider about family planning and if desired, a birth control plan prior to having intercourse.