Is It a Fracture or a Break? The Answer is "Both"
Fractures come in all shapes and sizes, the type determines treatment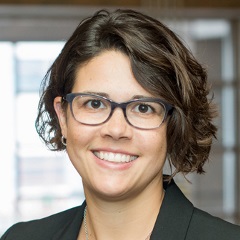 DAYTON, Ohio (March 11, 2019) – Those who wonder if the injury their bone sustained is a fracture or a break may be surprised to hear the answer is, "Both."
"A fracture is when a bone fails under a load usually as a result of trauma," said Jennifer Jerele, MD, an orthopedic surgeon with Premier Orthopedics. "A common question I hear from patients is, 'Was it a break or a fracture?' It's a common misconception to think they are two separate things, but essentially a break and fracture are one in the same."
Those who sustain a fracture need to seek the immediate advice of an orthopedic doctor so that it can be accurately diagnosed. The right diagnosis helps determine the course of treatment for the fracture and sets the right expectations for recovery. Dr. Jerele said surgeons like herself evaluate a fracture for specific classifications:
How the bones are aligned – The first thing a doctor or radiologist looks at when they view an X-ray is whether the fracture is displaced or non-displaced, or whether the fractured bones are still in alignment. This is an important first step in the diagnosis because it determines the trajectory of treatment.
How complicated it is – The next step is finding out if the fracture is open or closed. An open fracture means the bones have come through the skin, which places the injury at a higher risk for complications such as an infection.
How clean was the break – Next, it's important to look at whether the fracture is a simple or compound fracture. A simple fracture is when the bone has broken into two pieces. A compound fracture is when the bone or bones have broken into many pieces.
"All these factors play into determining a patient's treatment and length of recovery," said Dr. Jerele, who practices with Premier Physician Network. "There are times when a bone fractures and we don't have to do anything about it. It will heal up on its own. And there are other times when the fractured bone is around joints or in areas that bear a lot of weight; this is when we need to do something."
A compound fracture is one of the most severe a person can suffer since it is susceptible to infections. Bones that become infected can often require multiple surgeries to help eliminate the infection. Other serious fractures are those that happen around a joint since it can lead to an increased risk of arthritis down the road, Dr. Jerele said.
Fractures can be out of a person's control, but there are lifestyles and choices that an individual makes that can place them at a greater risk for the injury.
"My father was an orthopedist and growing up I was never allowed to jump on trampolines," she said. "I was not happy with that, but now that I am a parent and an orthopedic surgeon I know the risk children take when they play on a trampoline."
Child's play isn't the only thing deemed a risky activity. Adults who climb tall ladders to hang holiday lights or clean out gutters are also at a higher risk. And teenagers or adults who hop on an ATV for a quick spin around an open field are also at a very high risk for this type of injury.
Dr. Jerele encourages everyone to take time to think through an activity before it starts and remember one quick rule: "Anytime both feet are not on the ground, you are engaged in a risky activity – and at risk for breaking a bone," she said.