Balance: The Forgotten Exercise
Balance exercises increase mobility and prevent falls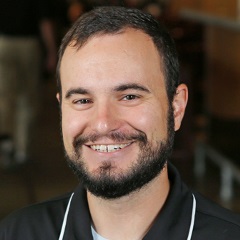 DAYTON, Ohio (November 13, 2018) – Balance is essential to one's overall well-being, yet it is often overlooked. Without good balance, we can't perform simple everyday tasks, such as walking, going up and down stairs or picking something up off the floor, according to the American Heart Association.
Balance exercises are easy to do and are important for people of all ages, said Greg Bozeka, a certified athletic trainer with Premier Orthopedics.
"As we get older, we lose a lot of our muscle elasticity and our strength; things that help us catch ourselves should we fall," said Mr. Bozeka, who practices with Premier Physician Network. "It's important to stay strong to prevent falls, which can lead to tendon ruptures and bone fractures."
Balance is one of four types of key exercise, along with strength, endurance and flexibility. It is a key element in fall prevention and can aid athletes as well as the elderly.
Mr. Bozeka says everyone can add balance exercises to their daily routine. The moves are simple and can be done anytime and anywhere – at home or even in the office with little or no equipment. Mr. Bozeka and the American Heart Association recommend these moves:
Stand on one leg – Try standing on one leg for 20 seconds. If you can accomplish that, repeat it throughout the day.
Gradual one-leg stand – If standing on one foot is a challenge, get there in a few steps: Hold onto a wall or chair with both hands. Release one hand. Then support yourself with just a finger. Once you are steady, try balancing on one foot with no support.
Walk heel-to-toe – Walk heel to toe for 20 steps. Use a wall to steady yourself if you need support.
Walk in a straight line – Walk normally in as straight a line as you can.
Leg stand with lower center of gravity – Once you master standing on one leg, try the exercise while pulling your arms in close to your chest or even with your eyes closed.
Star excursion test – Grab some paper cups in one hand. Do a single leg squat and place a paper cup in a position in front of you. With each squat, alternate legs and place another cup in a different spot. Then do a squat to pick up each cup.
Pilates, yoga and Tai Chi – These low-impact exercises improve balance, strength and flexibility. Try a free or low-cost class at your local recreation center or do them from a book, DVD or website.
As we get older, we also lose other skills that are part of the balance feedback loop, such as eyesight, Mr. Bozeka said.
"It's significantly harder to stand on one leg with your eyes closed than with them open," Mr. Bozeka said. "If we can keep those mechanisms sharp, we can hopefully prevent an injury from a fall, like a fractured arm or a torn rotator cuff."
For more information about balance exercises or to find a Premier Physician Network physician near you, visit www.PremierPhysicianNet.com.