Small Steps Can Help Keep Halloween Safe, Healthy
Kids, traffic and candy create perfect combo for potential safety risks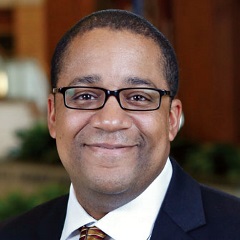 DAYTON, Ohio (October 18, 2018) – Treats are the only thing a parent wants their child to pick up during their Halloween route this year, but a lack of preparation can increase their risk for health and safety issues.
The costume is ready and the bag is waiting by the door, and one local doctor said parents should consider taking a quick 10 minutes to talk to their child about several potential risks before they head out to trick-or-treat this year.
"Halloween is a combination of crowds, kids and free candy so there are many things a child could be at risk for during the two-plus hours they're walking around the neighborhood," said Marcus Washington, MD, a primary care physician with Premier Health Family Medicine. "First and foremost, kids are going to come in physical contact with stuff that's been touched by lots and lots of different people."
The candy handed out at each house will likely be touched by multiple individuals, placing a child at risk for communicable diseases, said Dr. Washington, who practices with Premier Physician Network.
Dr. Washington said candy is just one source of concern during the night. He recommends guardians consider the following tips when preparing their kids for Halloween:
Mind the makeup – Be careful when applying makeup or when allowing a child to wear a mask. Children may be allergic to makeup, but may not know it if they have never worn it before Halloween. Likewise, masks can be made of materials that can irritate skin. Symptoms such as redness or hives may be a sign of an allergic reaction.
Light up the night – Make sure you wear light clothing or add a glow-in-the-dark feature to your costume. Hold a bright flashlight in one hand and your bag of candy in the other.
Stick with a buddy – Children under the age of 14 should go trick-or-treating with an adult. Those who are older than 14 years of age should go with at least one friend and preferably a group of buddies when available.
Keep it outside – Children should never enter the home of a person they do not know. When receiving candy from a person, make sure you stay outside the door. Teach children to never enter a home even if invited inside.
Beware of flames – Halloween means fire pits and candles. Be mindful of open flames, especially when walking near them in a costume that may have parts or materials that can easily catch fire.
Wash your hands – Make sure everyone washes their hands upon returning home or at the end of trick-or-treat. This will get rid of germs that may have been picked up throughout the night, and create a healthy environment in which to enjoy candy.
Do your due diligence – As eager as the kids may be to tear into their newly collected stash of candy, don't skip one of the most important steps. Make sure an adult inspects candy for opened wrappers or candy that looks as if it has been tampered with (puncture mark, etc.).