Shoulder Dislocation Common Injury Among Young Athletes
Many sports from football to lacrosse place students at-risk for injury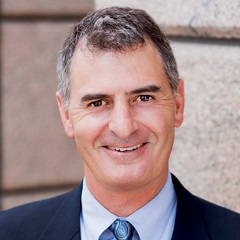 DAYTON, Ohio (October 18, 2018) – The shoulder joint is designed for great mobility, but with it comes the increased risk of dislocation which is often the case for many young athletes participating in contact sports.
A dislocated shoulder may not be the most serious injury a young athlete will encounter, but it could place them at a long-term risk for more shoulder injuries if it is not evaluated and dealt with properly the first time, according to Joseph Rubino, MD, an orthopedic surgeon with Premier Orthopedics.
"In the younger population, shoulder dislocations are often associated with a tear in the labrum or the tissue that surrounds the socket, and many times this requires surgery in order to keep the shoulder stable," said Dr. Rubino, who practices with Premier Physician Network. "Recent literature supports the importance of having labral tears evaluated immediately due to the high risk of recurrent episodes of instability, and the damage that occurs to the shoulder when it is unstable."
Most shoulder dislocations occur as a result of trauma. Normally, the shoulder will dislocate anteriorly (in the front) when a force is applied to the outstretched arm, as is often seen when a football player is reaching out to make a tackle or when an athlete uses their arm to break a fall.
Initial treatment for a dislocated shoulder is to place the shoulder joint back into normal alignment, a procedure known as a reduction. Evaluation by a doctor, including X-rays, is also important, and often an MRI is used to define the extent of the injury and to help determine if the injury needs to be treated with surgery.
Dislocations that don't have to be treated with surgery usually involve a short recovery period where a sling is used to immobilize the shoulder. Physical therapy is also used to help strengthen the muscles that surround the shoulder. A dislocation that requires surgery typically requires up to 4 to 6 months of recovery prior to a young athlete returning to their sport, Dr. Rubino said.
Thankfully most shoulder dislocations – whether or not they require surgery – do not disqualify young athletes from participating in their sport. However, prior to getting back into the game, the athlete usually has to achieve a full range of motion in order to protect themselves and to minimize the risk of further injury.
"There are times when an athlete is placed in a brace to provide some stability to the shoulder so that they can finish the season, and in these cases, surgery is typically performed at the end of the season," Dr. Rubino said.
Shoulder dislocations are difficult to prevent since they typically occur during contact sports such as football, wrestling and lacrosse. The best prevention is to make sure an athlete is strong and conditioned well before participating in sports. Those who do encounter a dislocation may find it beneficial to keep the following in mind:
Age matters – The younger you are, the higher the risk for recurrent dislocations. According to the American Academy of Orthopaedic Surgeons, the rate recurrent shoulder dislocations occur in as many as 90 percent of patients in their 20s and 30s, but less than 10 percent of patients aged 40 and older.
Re-injury doesn't take much – Damage to the ligaments and bone often occur with a dislocation. Be mindful that this damage may mean less force is needed to cause a repeat dislocation the next time.
Protection vs. prevention – A brace may be used to protect your injured shoulder during subsequent activities after recovery, but that doesn't mean it can prevent a dislocation from occurring again.
No injury is created equal – It's important to work closely with an orthopedic surgeon on your specific injury. No shoulder is created equal and no injury requires the same treatment. Be sure to follow their lead and trust the recovery plan they have created.