Moms Need the Support of Family, Friends to Make Breastfeeding a Success
It takes time for mom to build routine, confidence in breastfeeding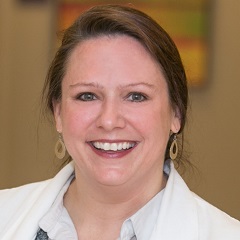 TROY, Ohio (September 26, 2018) – Breastfeeding can be one of the healthiest things for a growing infant, but it can often take time for mom and baby to establish a rhythm that feels natural.
That's why the support of loved ones and friends is extremely important as mom learns to breastfeed and build her confidence about her decision. Those closest to mom can play a vital role in encouraging her, providing the rest she needs to stay strong and healthy, and watching for signs that breastfeeding may becoming too overwhelming.
Breastfeeding is a powerful gift to mom and baby. It provides the best nutrition a baby can get and also releases two very important hormones in a woman's body: oxytocin, which fosters bonding, and prolactin, which provides a greater sense of calm.
"Despite these benefits, there are times when a mom is going to feel overwhelmed by the process of breastfeeding," said Katherine Bachman, MD, with Premier Women's Center. "A breastfeeding mom rarely receives a break from night feedings and can feel frustrated when the process isn't going according to plan."
Dr. Bachman, who practices with Premier Physician Network, says a strong support system is important. This can include family members, friends, online support groups and local lactation consultants. Moms should seek to build this support while pregnant, and learn to lean on it after baby comes. Mom can also benefit from keeping the following in mind:
Be confident in your decision – Women may run the risk of feeling criticized about different aspects of their decision to breastfeed – whether it's how long they do it or the location in which they feed their children. Don't allow outside influences to weaken your commitment. Be confident in the decision you have made knowing it is both physically and emotionally good for your child.
Trust the process – Unlike bottle feeding, through which every ounce is accounted for, breastfeeding can make it hard to visibly see and measure how much milk a baby is consuming. This can often cause anxiety in a mom who worries if her little one is being properly fed. Moms should trust nature and facts. Lactation consultants say that at least 95 percent of women who breastfeed produce enough milk for what their baby needs.
Eliminate any shame – There are times when women simply can't breastfeed due to illness and medication use. Babies may need formula in these instances, whether it is full-time or as a supplement to breastmilk. Women should never feel as if they have failed, and instead, should consider ways that they can still incorporate important aspects of breastfeeding such as personal touch and close holding while a baby is feeding out of a bottle.
Be aware of the blues – It's important for new moms to guard their emotional health. Having a baby can bring a big change to a family's life, and sometimes a struggle in breastfeeding can compound that. A woman should seek the advice of her doctor if her feelings become too overwhelming.
You're not alone – Support doesn't end when a woman leaves a hospital setting. Premier Health hospitals offer lactation consultants to moms the entire time they are breastfeeding. These consultants can be reached 24 hours a day, and often offer classes and one-on-one sessions for moms who are struggling.