Abdominal Aortic Aneurysm Can Be Treated Non-Invasively
Local cardiologist says screening can radically reduce risk of serious condition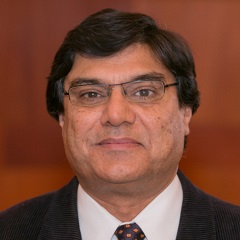 MIDDLETOWN, Ohio (September 26, 2018) – Cardiologists at Middletown Cardiology Associates are making the treatment of abdominal aortic aneurysms much easier for patients suffering from the relatively common, yet serious condition.
M. Atiq Khalid, MD, a cardiologist with the practice, said an increasing amount of his patient time is spent addressing abdominal aortic aneurysms. Every year, 200,000 people in the United States are diagnosed with the condition, according to the Society for Vascular Surgery (SVS).
"An abdominal aortic aneurysm is usually silent and, if it remains undetected and untreated, is an instant killer," said Dr. Khalid, who practices with Premier Physician Network. "But it's a condition that can be found through proper screening, and can now be treated with a minimally invasive procedure."
When the wall of a blood vessel weakens, a balloon-like dilation called an aneurysm develops. This happens most often in the abdominal aorta, an essential blood vessel that supplies blood to your legs, the SVS said. Treatment for an abdominal aortic aneurysm used to require a large incision and prolonged hospital stay, but physicians like Dr. Khalid are now offering an easier way to resolve the issue through endovascular stent grafting.
Endovascular Aneurysm Repair (EVAR) is a minimally invasive procedure done to place a stent graft inside a person's aorta using a thin tube called a delivery catheter. Unlike open surgery, which involves a long cut in a person's abdomen, endovascular surgery requires only two small incisions in or near their groin. The catheter then places a stent graft into the aorta. As the stent graft is released it expands to the proper size so that it fits into the aorta both above and below the aneurysm.
Surgery usually lasts about two hours, and patients can return to normal activity in a much shorter timeframe than with the traditional surgery, which required an incision from a person's chest all the way down to their upper thigh, Dr. Khalid said.
Abdominal aortic aneurysm is the 15th leading cause of death in the country, and the 10th leading cause of death in men older than 55, the SVS said. Yet many individuals can prevent the adverse outcome from ever happening through a screening that requires nothing more than medical imaging of their aorta.
"It's a simple ultrasound that can be done to measure the size of their aorta," Dr. Khalid said. "It's non-invasive and is no different than an ultrasound performed on a pregnant woman to monitor her unborn child."
Here's how to know if you should consider screening:
Your lifestyle – Individuals who are smokers or have high blood pressure and are above the age of 65 should consider screening.
Your heart – Anyone who has had open heart surgery or coronary artery disease should have their abdominal aorta checked.
Your risk factors – Caucasians and anyone with a first-generation relative who has developed abdominal aortic aneurysm are at the highest risk for developing it themselves.