KneeAlign® Procedure Provides Precision for Knee Replacement Surgery
Computer navigation system provides real-time data on patient's anatomy to position new knee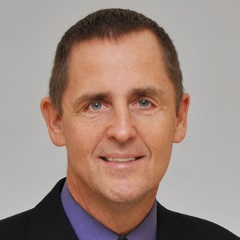 DAYTON, Ohio (June 25, 2018) – Orthopedic surgeons have another computer navigation system available to assist with performing total knee replacement procedures with great precision.
KneeAlign® is computer-assisted, handheld technology that delivers real-time data to surgeons during a total knee replacement. The technology helps surgeons to be very precise when positioning new components in a person's knee.
Accurate alignment can minimize recovery time and maximize the survival rate of the hardware being used. KneeAlign's computer navigation system allows a surgeon to attach a new knee with minimal penetration into surrounding structures, which can result in less postoperative bleeding and potentially less pain.
"We always strive to achieve the best alignment possible, and having the most up-to-date data on a patient's anatomy is a vital part of that," said James Klosterman, MD, an orthopedic surgeon with Premier Orthopedics. "KneeAlign provides many benefits to surgeons and patients."
Knee replacement surgery is growing exponentially across the country. According to data released in 2015 by the Centers for Disease Control and Prevention's National Center for Health Statistics, the rate of knee replacements nearly doubled in the United States from 2000 to 2010. That's nearly 700,000 knee replacements performed in adults aged 45 years or older.
Knee replacement surgery often provides pain relief to a person's joints damaged from wear and tear or disease such as osteoarthritis. However, the truth is that not every surgery is the same nor is the anatomy of each patient, according to the American Joint Replacement Registry.
Dr. Klosterman said he is pleased with the feedback he has received from patients.
"I believe that our overall precision has improved, and our high patient satisfaction scores back that up," he said. "Our pain scores have dramatically decreased, which has led to the additional, and unexpected, benefit of minimizing opioid use."