Abdominal Adhesions Can Create Obstructions
Adhesions can occur anywhere in body but most common in abdomen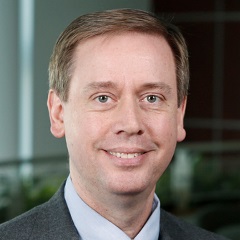 DAYTON, Ohio (April 9, 2018) – Most surgical procedures done on the abdomen will result in the creation of adhesions, a band of scar-like tissue that can cause organs to stick to one another. Abdominal adhesions are common and in most cases go undetected, but for a small percentage of individuals, these adhesions can cause significant side effects such as bowel obstructions or infertility in women, said L. Stewart Lowry, MD, a general surgeon with Miami County Surgeons.
"Adhesions are a normal response to inflammation in the body whether it's caused by surgery or other health conditions such as appendicitis or diverticulitis," said Dr. Lowry, who practices with Premier Physician Network.
The body's internal tissues and organs have slippery surfaces that allow things to shift as the body moves. Adhesions cause these surfaces to stick together, and can also restrict movement by connecting the loops of the intestines together or to the wall of the abdomen. As a result, sections of the intestines can be pulled out of place blocking food from passing into the intestines, according to the National Institutes of Health (NIH).
"We have found that the most common issue caused by abdominal adhesions is bowel obstruction," Dr. Lowry said. "About one-third of those admitted into our surgical service have this type of bowel obstruction."
Adhesions form from a jelly-like substance that initially appears in the area of the abdomen that has experienced surgery. This substance is usually absorbed over time, but in some cases will remain and develop into a hard scar-like band.
There are no tests that can detect adhesions, but certain symptoms can point to their presence. These include severe abdominal pain or cramping, vomiting, bloating, constipation and the inability to pass gas. Adhesions can also cause infertility in women by preventing fertilized eggs from reaching the uterus, the NIH said.
Adhesions that are causing secondary issues such as a bowel obstruction can be clipped so that they no longer bind two organs together. They are never fully removed because of the delicate state of the adhesion and the presence of multiple blood vessels inside of it, Dr. Lowry said.
Research is still being done as to whether there are risk factors that can make one person more susceptible to adhesions than another person. Until then, Dr. Lowry suggests individuals discuss the following with their surgeon prior to their procedure.
Creating a physical barrier – There are times when a sheet of absorbable material or the use of liquid can be placed in between organs during surgery to reduce the risk of adhesions between surfaces. Ask your physician if they use these products and if it would be a viable option.
Handling with care – Research has shown that tissues that are gently handled during surgery may reduce the amount of adhesions formed in someone's abdomen.
Going less invasive – Many procedures can now be done through minimally invasive laparoscopic or robotic surgery. Seek out a surgeon who has experience in this type of surgery.
"I think it's reasonable to seek out a surgeon that offers minimally invasive surgery," Dr. Lowry said. "It's a type of surgery that tends to cause less pain, offer a quicker recovery and results in less adhesion formation."