Those Who Have Undergone Radiation May Be at Risk for Cardiotoxicity
Symptoms for cardiotoxicity can take up to five years or more to emerge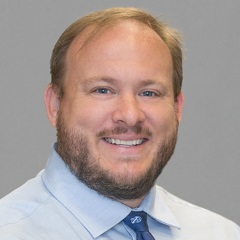 MIDDLETOWN, Ohio (March 13, 2018) – Certain types of radiation therapy meant to treat areas close to the heart may place a person at a higher risk for developing cardiotoxicity later in life.
Cardiotoxicity is a health condition that causes damage to the heart muscle, heart lining, or the organ's blood vessels. Symptoms for radiation-induced cardiotoxicity are similar to those associated with heart disease such as shortness of breath, fluid retention in the legs, and heart palpitations. These symptoms can surface five to 20 years after a person undergoes radiation, said Bryan King, MD, a cardiologist with Upper Valley Cardiology.
A cardiologist can run tests and screenings to decrease the chances or the effects of cardiotoxicity before a person starts radiation therapy. Traditional risk factors for heart disease like smoking, high blood pressure, and high cholesterol are also risk factors for cardiotoxicity when receiving radiation.
"All patients who receive radiation are monitored for cardiotoxicity," said Dr. King, who practices with Premier Physician Network. "Whether a person is receiving chemo radiation or another form of radiation, they will undergo a cardiac evaluation prior to treatment. This might include an ultrasound of the heart or a stress test. These tests will then be repeated after therapy to see if anything has changed."
Cardiotoxicity is much more common in individuals who received radiation therapy prior to the turn of the century, said Gregory Rasp, MD, a radiation oncologist with Premier Health.
"Back then cancer treatment didn't take the heart into account and it was actually thought that it was immune to radiation," Dr. Rasp said. "Sometime after 2000, we started to realize that cardiotoxicity was a secondary effect of radiation. We've really taken extra steps to avoid radiating the heart, and to limit the dose to the heart as much as possible at least since around 2002."
Not all cancer treatment increases a person's risk for cardiotoxicity. Lung cancer, certain lymphomas and left-sided breast cancer were among those that would have required radiation that was positioned near or through a person's heart. Today, physicians can provide more targeted treatment to avoid damaging the heart, although there are cancer survivors who are now seeing the effect because of treatment given prior to the change, he said.
"Sometimes we have to take the risk of entering the heart in order to save the patient's life," Dr. Rasp said. "A slightly increased risk of heart disease years later is a lot better than dying today. The other thing to keep in mind is that receiving radiation therapy does not mean that a person will automatically have a heart attack one day. It's a treatment that increases a person's risk factors for heart disease over time."
Dr. King said radiation therapy isn't the only thing that can affect a person's heart health when being treated for cancer. It has been found that individuals who have radiation or chemotherapy are more susceptible to electrolyte imbalances, low magnesium and low potassium.
"Changes like this don't specifically translate into heart disease, but can cause things such as bad heart rhythms," Dr. King said. "Still, I would say that anyone who needs to have radiation treatment for cancer should not be afraid of it. We're getting better every day at recognizing risk factors, treating risk factors and preventing these side effects."