Orthopedic Traumatologists Offer Specialized Care for Unique Injuries
Up to 25 percent of orthopedic cases in trauma centers need specialized care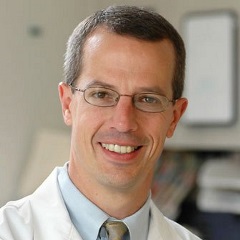 DAYTON, Ohio (March 5, 2018) – More than half of the injuries that come through a typical emergency department throughout a year will require orthopedic care, and not all will be a simple fix.
In fact, most will be the result of a traumatic injury which has left its mark on a person's body in a very complicated fashion, according to Michael Prayson, MD, an orthopedic surgeon with Premier Orthopedics and orthopedic trauma director at Miami Valley Hospital. Dr. Prayson is one of four orthopedic traumatologists at Premier Orthopedics who gets called in to handle these unique cases often seen in one of Premier Health's emergency rooms, including Miami Valley Hospital, the site of the region's only Level I Trauma Center.
"We specialize in the management of traumatic injuries, which sounds kind of simple, but in practice, is very complex," said Dr. Prayson, who practices with Premier Physician Network.
Orthopedic traumatology – practiced by surgeons like Dr. Prayson and his colleagues – is a growing subspecialty in trauma centers across the nation, according to the American Academy of Orthopaedic Surgeons. These specialty-trained physicians make it their job to treat patients after they have sustained traumatic injuries – everything from a significant fall to a major car crash.
Studies have shown that orthopedic trauma cases are worth the special focus. According to the American College of Surgeons, more than 60 percent of injuries involve the musculoskeletal system, and more than half of hospitalized trauma patients have at least one musculoskeletal injury that could be life threatening, limb threatening or result in significant functional impairment.
These traumatic injuries come with a cost to the patient and the community. Research shows that traumatic orthopedic injuries are often associated with significant health care costs, decreased productivity in the workplace, and in some cases long-term disability, the ACS said.
A recent study published by the National Institutes of Health (NIH) suggested that up to a fourth of the orthopedic cases that come to a trauma center would greatly benefit from the care of an orthopedic traumatologist. Dr. Prayson agrees and adds that patients need to understand the value of being cared for by an orthopedic traumatologist.
"Let's say a femur bone at the knee joint breaks into 12 different pieces, it's beneficial to have surgeons that can handle those injuries and who are trained to do it on a regular basis," Dr. Prayson said. "The best chance of a person recovering to a reasonable degree is to put the joint back together as smoothly and as sturdy as possible, and to restore the alignment."
Cases that often fall in the realm of orthopedic traumatology are open/compound fractures, and orthopedic injuries that require hardware – such as pins, screws, nails, brackets, plates or wires – to stabilize the bone. Not all their work is a result of an emergency that has come through a hospital door. They also address cases that may have been addressed by other orthopedic surgeons, but are not healing correctly.
"We're proud of what we do, and we're certainly excited to be a part of team that works so well together," he said. "And we take pride in the number of patients we are able to help in a given year."