Joshua Ordway, MD, Named Springboro High School Team Physician
Doctor hopes his own athletic experience will help serve local students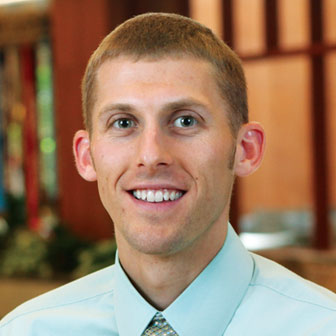 SPRINGBORO, Ohio (April 22, 2014) – Joshua Ordway, MD, a family physician practicing at Franklin Family Practice in Franklin, has been named team physician for Springboro High School.
Dr. Ordway – who opened the Premier HealthNet practice in Franklin last fall – will volunteer his time and share his responsibilities with Joseph Rubino, MD. Dr. Ordway hopes to use his personal experience as an elite marathon runner to help educate local athletes as well as their parents that success goes beyond what is accomplished on the playing field.
"Parents can easily get focused on how their child is doing on the field, assessing their ability to advance to the next level and whether they have the tools they need to get better," Dr. Ordway said. "A lot of times, injury prevention – such as proper diet, adequate stretching and the importance of sleep – can get lost in all of the long-term goals. This provides a good opportunity to talk to students and parents about the importance of caring for oneself on and off the field."
Dr. Ordway will be on the sidelines at the home football games for the 2014-2015 and into the future to care for athletes if they encounter an injury and provide the professional expertise that is needed, as well as making himself available to athletic trainers for other sports at the school. Springboro athletes will be a top priority at his office, which is located in Franklin Square Office Center, at 8401 Claude Thomas Way, suite 21D. There, he will not only take care of athlete's immediate needs, but also make sure that they are up-to-date on annual physicals and other health needs.
"Springboro Athletics is pleased to welcome Dr. Ordway to our team," said Matt Louis, athletic director for Springboro City Schools. "Our goal is to encourage the complete student-athlete in all programs. Dr. Ordway brings the expertise to care for our athletes physically, but he also has the important experience as an athlete to share with our students and their parents. There are significant demands put on today's high school athletes, so our partnership with Premier Health is essential to caring for and equipping our student athletes for success on and off the field."
The role of team physician helps Dr. Ordway fulfill the goal he made to deeply connect with the community when he opened up his practice nearly six months ago. The graduate of The Boonshoft School of Medicine at Wright State University lives in the community and can often be seen running throughout the local neighborhoods. His running career started more than 20 years ago and has included significant accomplishments including qualifying for past Olympic marathon trials and recently placing third at the 2013 Columbus Marathon.
To learn more about Franklin Family Practice or to get more information about Premier HealthNet, visit www.FranklinFamPractice.com.