News
Premier Health brings you the latest information about our health system, member hospitals, health centers, and organizations. For more information, please refer to our media contacts and resources.
Notice of Information Privacy Incident
Premier Health is providing notice of a recent information privacy incident that might have affected a limited number of Premier Health patients. For more information: view website notice.
First Trimester Screening May Result in Reduction of Preeclampsia in Pregnancy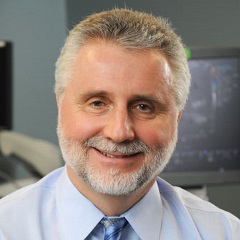 DAYTON, Ohio (February 12, 2018) – A new screening method available during the first trimester of a woman's pregnancy can help to select women who are at risk for developing preeclampsia.
Preeclampsia is a disease specific to pregnancy. It develops after 20 weeks of gestation and the usual symptoms include high blood pressure, swelling, and protein in the mother's urine. Certain things have been known to place a woman at-risk for preeclampsia – such as family history, hypertension, and maternal weight – but now testing can help identify women who are likely to develop it with a much higher degree of accuracy.
"We now not only have a way to screen women for the disease, but also have a method to reduce the risk of developing preeclampsia in those that test positive," said Jiri Sonek, MD, a maternal-fetal medicine specialist with Perinatal Partners.
Dr. Sonek is the medical director of Miami Valley Hospital's Maternal-Fetal Medicine, Ultrasound and Genetics Department that offers the screening. He recently completed a study that evaluated the performance of first trimester screening for preeclampsia, which is published in the American Journal of Obstetrics and Gynecology. He was able to predict with a high degree of accuracy (85%) which patients will develop early-onset preeclampsia, the most dangerous type of this disease. He said that another study recently published in the New England Journal of Medicine showed that women who screened positive for preeclampsia and used daily low-dose aspirin starting at the end of the first trimester showed a great reduction (by about 80%) in the rate of early-onset preeclampsia.
Preeclampsia is one of the leading causes of maternal, fetal, and infant illness. For the baby, preeclampsia can disrupt blood flow to the placenta, depriving the fetus of oxygen and food. This may result in premature birth or restricted growth of the baby. Severe forms of preeclampsia can have a significant impact on the mom including damage to her the kidneys and the liver.
Early diagnosis is important to managing preeclampsia, however, prevention or at least delaying the onset of the disease is the best solution. Early screening allows at-risk women to begin treatment in the first trimester as well as makes her and her provider more sensitive to symptoms that might arise.
The early screening is considered non-invasive and involves an ultrasound done between 11 and 13 weeks of gestation. The ultrasound evaluates the growing fetus in great detail and measures the blood flow in the maternal uterine arteries. The higher the resistance in the uterine arteries, the more likely the mother is of developing preeclampsia later in her pregnancy. The final risk assessment is based on the combination of maternal characteristics, maternal blood pressure, resistance in the uterine arteries, and certain biochemical substances in the maternal circulation, said Dr. Sonek, who practices with Premier Physician Network.
Women interested in finding out more about the screening should consult with their physician first, and then keep the following in mind:
Testing is painless and personalized – Testing includes an ultrasound, weight, personal and family history, blood pressure check on both arms, and a simple blood draw. Test results from the blood draw come back in seven days at which time you will be contacted by a specialist to review the results with you. Positive results are then discussed with your obstetrician. If the result points to an increased risk of preeclampsia, specialized monitoring and use of low-dose aspirin will be recommended.