Dietetic Internship Rotations, Classes, and Projects
Routine Schedule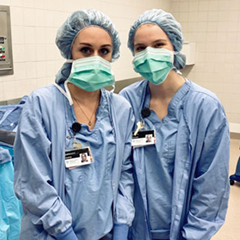 Interns will be scheduled based on a 32-35 hour supervised practice week in addition to an average of 6 credit hours of master's classes per semester. Additional time will be required outside scheduled work time to complete projects, reading assignments, etc.
Classes are conducted through the University of Dayton. These classes are typically held on Mondays or evenings, but there may be exceptions.
Interns attend Dayton Dietetic Association meetings and the annual Ohio Academy of Nutrition and Dietetics meeting.
Internship Experiences
Simulations beginning in June in conjunction with master's classes,
Orientations beginning in October specific to the internship, 1 day/week,
Orientation continuing in December as 5, 6 hour days with 1 preceptor,
Daily rotations from January through December using the following in practice blocks:
Clinical – 13 weeks, 1-week rotations
Clinical Rotations: You will practice the role of the Registered Dietitian Nutritionist in the hospital setting. Interns complete the nutrition care process, including electronic medical record documentation and implementation of nutrition interventions.

Cardiology
Critical Care – adult and neonatal
Neurology or Trauma or Pulmonary
Medical/Surgical
Oncology
Advanced Care
Renal

Staff Responsibility, 3 weeks: The basic clinical rotations culminate in a staff responsibility experience in a clinical area of the intern's choice. This experience is designed to provide the intern with a work load that could be expected in an entry level position. This allows application of education and clinical decision-making while still providing the security of a mentor/preceptor. At the successful completion of the staff relief experience, you are ready for entry-level clinical practice.
Community – 9 weeks, 1 week each
Diabetes Center: In the Outpatient Diabetes Center you will learn and assume (with supervision) the role of the diabetes nutrition educator in the area of diabetes self-management training.
Diabetic Camp: Experience a camp for youth with diabetes, interacting with other professionals and foodservice personnel while educating children on the management of their diabetes.
Outpatient Bariatrics: You will be involved in a pre and post-operative education and nutrition care.
Outpatient MNT: These outpatient rotations give you an opportunity to experience nutrition counseling and education for a variety of conditions including: diabetes, weight loss, cardiovascular disease, renal failure, foods allergies, and gastrointestinal disorders. You will have an opportunity to walk through the nutrition care process with interviewing patients, observing nutrition counseling, and assisting in meal planning.
Public Health: You spend a week with Public Health Dayton & Montgomery County, experiencing the role of the RDN in the community setting with various populations and diverse cultures. Experiences include WIC and Diabetes Education.
Private Practice: This experience highlights the creative approach within the outpatient counseling arena in a group of private practice dietitians.
Extended Care Facility: This rotation is designed to provide you with an introduction to clinical practice in an extended care facility. Interns will have the opportunity to work with nutrition care professionals performing nutrition assessments and interventions and will be introduced to the regulatory guidelines for extended care. Interns will gain experience with the aging population and rehab.
Schools: This experience with upper elementary and high school youth emphasizes foodservice requirements as well as nutrition programing for this population.
Foodservice Management – 10 weeks
This experience will expose you to a large and varied foodservice operation. The Central Food Production Unit for the Premier Health System provides you with experience in menu planning, purchasing, receiving, storage, delivery, production and management. Interns also complete rotations in patient foodservice and retail foodservice operations. Projects include a group meal event, employee education, financial analysis, performance improvement, as well as others.
Staff Responsibility, 3 weeks: This experience is designed for you to demonstrate the knowledge and skill of an entry level foodservice dietitian. Experience is gained in managing the integration of financial, human, physical and material resources; completing an operations analysis; and coordinating services inter- and intra-departmentally. This provides an additional opportunity for problem-solving and decision making.
Advanced Experiences - 7 weeks
Research – The Master's and Internship combine in working with you on your own research project from start to manuscript.
Professional Seminar – After the majority of your internship is complete, you will have the opportunity to provide a professional seminar to staff.
Clinical Quality Improvement – This rotation analyzes a component of clinical nutrition care to improve processes.
Individual Choice (3 weeks considered based on availability, ie Pediatrics, Sports Nutrition, Wellness, Critical Care, Integrated and Functional Medicine, Specialty Clinical Rotations, Eating Disorders, Dialysis Center, Maternal Fetal Medicine, etc). These electives offer you the ability to investigate areas of interest within dietetics and/or specialize in an area of personal interest.
Project Management Weeks - Flexible weeks are scheduled periodically to allow you to work on classwork and projects.
Vacation - Vacation time includes two weeks during the December holiday season and approximately 2 weeks at variable times through the year. The internship vacations will not necessarily coincide with the Univeristy of Dayton academic vacations. Every effort will be made to accommodate important personal scheduling needs as much as possible.
Holidays - Interns receive holidays off at Thanksgiving, Christmas, New Year's Day, Labor Day, Memorial Day.