How to Apply for the Dietetic Internship
Admission Requirements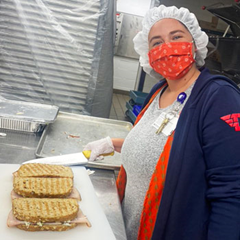 Application to the University of Dayton Master's in Dietetics and Nutrition Program (MDN) and Premier Health Dietetic Internship (PDI) is open to students entering their final year of study in an ACEND accredited undergraduate didactic program in dietetics. Applicants must be accepted by both the MDN and PDI programs to be offered an acceptance letter to the MDN/PDI program. Applicants will complete the application either between Sept-Dec through the U.D. Graduate Admissions portal for the MDN program or, if positions remain, by Feb through the DICAS application.
Application Timelines for Fall Acceptance
Application portal opens September 1 with application deadline November 1 of final year of study
Notification letters sent out December 1
Confirm with $1,000 deposit to PDI by December 15
Important Note: Applicants must be able to matriculate into the graduate program by June 1 in order to complete the summer of online graduate courses required for this program. This requires the student to graduate in May and to receive the signed verification statement from their DPD Director with a signed date no later than May 30, prior to beginning the program .
Admission Minimum Qualifications to Apply
GPA: minimum 3.0 overall GPA
Science GPA: 2.5 minimum
Professional Dietetics GPA: 3.0 minimum
Work Experience
Evidence of 200-hours minimum nutrition-related work experience (up to 100 hours can be documented as nutrition related, non-paid experience with significant contributions).
Service to the Profession
Examples: Actively participates as a member of the Student Dietetic Association (SDA), has an executive position on SDA, serves the undergraduate dietetics program as a research or teaching assistant, works on other projects that support the mission and goals of the undergraduate dietetics program, leads/participates in a nutrition related project that impacts the community or fellow dietetic students.
Leadership Experience
Examples: Executive position in a university or community organization, job with high level of trust and responsibility assigned to position, mentor in any setting, leadership of groups outside of the classroom setting.
***Note any experiences required for a course***
Required Documents for the Application
Intent to Complete or DPD Verification Statement:

Either of these forms can be completed by your DPD Director to be uploaded directly to the UD or DICAS Application Portal.

Personal Statement

1000-word limit
Address the following: Your interest in dietetics and journey to prepare to successfully complete the internship, graduate school and practice in the profession of dietetics; strengths and area of growth over the past four years of undergraduate study; a goal you would like to accomplish during your time in graduate school and dietetic internship as well as one for your career; and how these programs align with achieving your goals.

Resume following template in application portal

No more than two pages
Specify number of work and/or volunteer hours

GRE for external candidates only
Transcript with clear identification of GPA as total, professional, and science. This can be a DICAS printout.
Letters of Recommendation (3)

Three letters of recommendation are required, one from each of the following: DPD Director, Medical Nutrition Therapy Professor, Work Reference. If two of these are the same person, add an additional reference from your faculty or organizational advisor – do not include a personal friend as a reference
Applicants will request a letter of recommendation through the online application process
An email with an attached recommendation form will be sent to your designated reference
The person completing your letter of recommendation will complete the required form and then upload it to the application portal

Attestation of Professional Image Policy
Get started now at Admission Requirements : University of Dayton, Ohio (udayton.edu) if between Sept 1-Nov 15, or at DICAS if after Nov 15.
Content updated August 2022