Dietetic Internship Program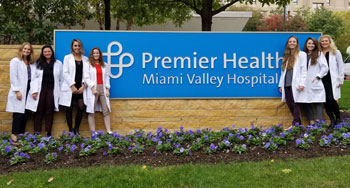 Thank you for your interest in the Premier Health Dietetic Internship! We are excited to offer a dietetic internship in an innovative, 1100 bed, Level I Trauma, and Teaching Hospital System!
We are now partnering with the University of Dayton to offer a Master's Degree in Dietetics and Nutrition as well as a Dietetic Internship Program. This combination will better prepare students for the future of dietetics as we near 2024 when a master's degree will be required to sit for the registration exam.
We accept applications in the fall (from the UD graduate portal) and spring (for remaining seats from DICAS/D&DDigital) from students who are in their last year in any accredited dietetics program, have a Verification Statement or Intent to Complete, and have been accepted into the University of Dayton Master's Degree Program in Dietetics and Nutrition. Through this partnership, we have experiences throughout our local Premier Health and Community Networks. We are confident that the graduate classes will support supervised practice to optimize each student's learning and preparation for their professional future.
Premier Health Dietetic Internship Open House
Date: Friday, January 7, 2022 and Wednesday, April 27, 2022
Time: 3:00-4:30 p.m.
Virtual and In Person options; please contact Karyn Catrine for virtual link or RSVP to in person session.
Directors:
Karyn Catrine, MS, RDN, LD, Premier Health Dietetic Internship Program Director (kscatrine@premierhealth.com)
Jennifer Dalton, DCN, RDN, LD, University of Dayton Master's Dietetics and Nutrition (jdalton1@udayton.edu)
The Premier Health Dietetic Internship is accredited by ACEND.
The Accreditation Council for Education in Nutrition and Dietetics can be contacted by:
Email: ACEND@eatright.org
Phone: 800/877-1600, ext. 5400
Mail: 120 South Riverside Plaza
Suite 2190, Chicago, IL 60606-6995
The program is based at:
Miami Valley Hospital, Nutrition Services, 1 Wyoming St, Dayton, OH 45409 .