Print this recipe
Veggie Quinoa Power Bowl
Servings:

5

Calories:

426

kcal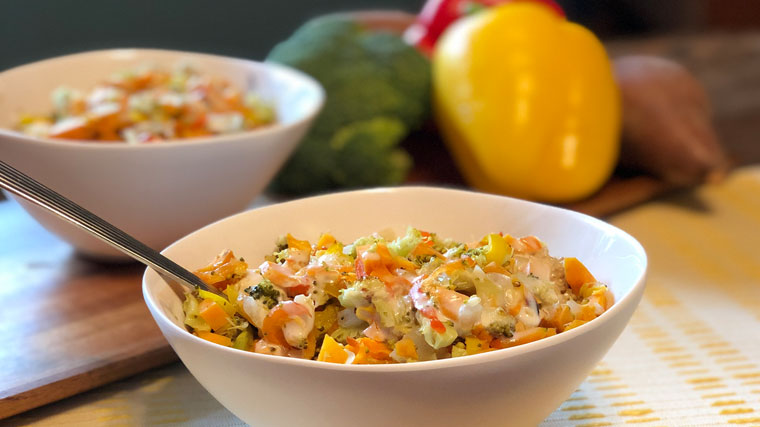 This completely vegan recipe is a very healthy and sustainable option for lunch or dinner. Try the recipe now!
Ingredients
2 cups uncooked quinoa
4 cups water
2 large sweet potatoes (peeled and diced)
1 small onion (chopped)
3 cups broccoli (chopped) - 2 heads of broccoli. Or use 3 cups of Brussels sprouts, cut in half
1 cup sweet bell peppers (thinly sliced), 1 red and 1 yellow
Olive oil
Garlic powder to taste
Salt and pepper to taste
Maple Tahini Sauce
Yield: 4 servings
1/4 cup tahini paste (choose gluten-free paste for a gluten-free power bowl)
1/2 lemon, juiced
1 tablespoon apple cider vinegar
1 tablespoon maple syrup
3 to 5 tablespoons water
Add all the ingredients to a mason jar or closed container, starting with 3 tablespoons of water. Shake hard until everything is combined. If too thick, add more water 1 tablespoon at a time, until you reach the desired consistency.
Alternative: add all ingredients to a bowl and slowly whisk in the water one tablespoon at a time.
Instructions
Preheat oven to 425°F. Cover a large sheet pan with foil. Set aside.
In a large mixing bowl, combine the sweet potatoes, onions, and broccoli with olive oil, sea salt, black pepper, and garlic powder. Dump vegetables out onto the prepared pan and roast for 40 to 45 minutes, stirring every 10 minutes.
While vegetables are roasting, bring the water to a boil in a medium saucepan with the quinoa. Turn heat down and simmer on medium-low for approximately 15 minutes.
Divide quinoa evenly into dishes and topped with veggies when they're done cooking. Drizzle with maple tahini sauce (below) and serve. Indigo Robinson, Dietetic Intern
Dietetic Intern