Print this recipe
Simple Tofu Scramble
Total time:

25 minutes

Prep time:

10 minutes

Cook time:

15 minutes
Servings:

2

Calories:

276

kcal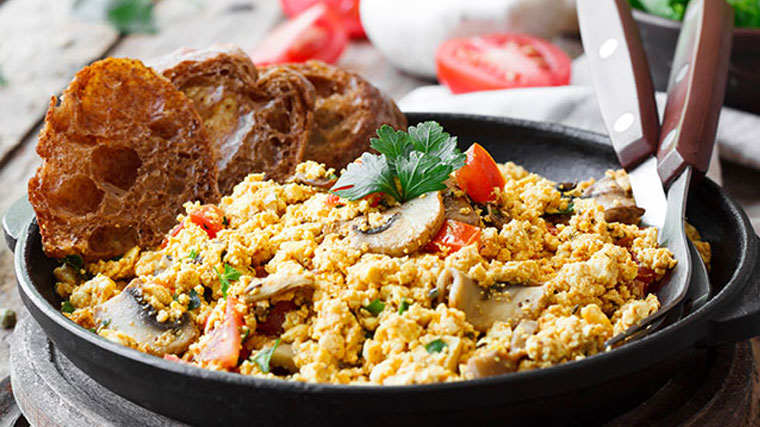 This healthy substitute for scrambled eggs is full of flavor. Try the recipe now!
Ingredients
8 ounces (about 220 grams) extra firm tofu
1 tablespoon olive oil
1/2 medium onion (chopped)
1 teaspoon crushed garlic
1/2 medium bell pepper
2 tablespoons nutritional yeast
1/2 teaspoon turmeric
1/2 teaspoon paprika
Sprinkle of sea salt
Sprinkle of black pepper
1/4 cup (60 milliliters) soy milk (can also use almond milk)
1 cup fresh basil
Instructions
In a wide bowl, use a fork to mash the tofu into chunks. Leave large chunks for the best scrambled look; set aside.
Add olive oil, onion, garlic, and red bell pepper to the pan and saute until softened.
Add in the tofu and fry everything together until the tofu is nicely browned. Be careful when turning the tofu so you don't break it up and it stays in nice chunks.
Mix the nutritional yeast, turmeric, paprika, and a sprinkle of sea salt and black pepper into a sauce with the soy milk and then pour over the scrambled tofu and fold in.
Add the basil and fold in.
Serve with toast triangles, sliced avocado, and fresh basil. Lina Lehner, RDN, LD