Print this recipe
Winter Salad
Servings:

4

Calories:

134

kcal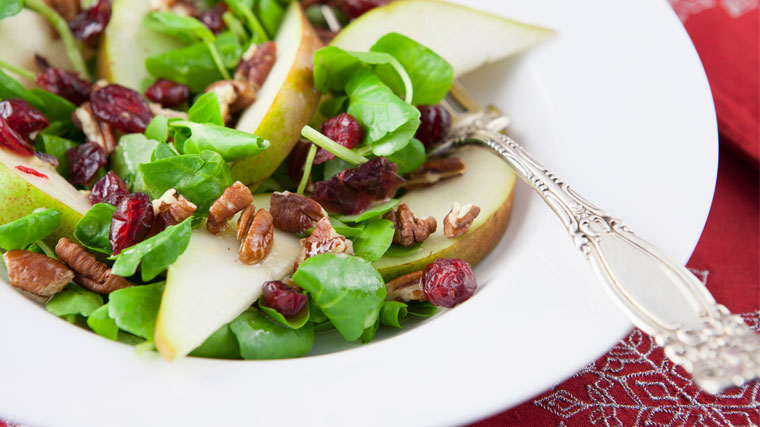 Bring some green to your table during the winter months with this fresh and crunchy salad. Try the recipe now!
Ingredients
Salad
Spring mix lettuce or fresh spinach
1 ripe pear (If pears are hard, place in a brown paper bag on counter top for several days until you can slightly indent with thumb.)
1/2 cup dried cranberries (Craisins)
1/4 cup pecans, plain or cinnamon (see below)
Cinnamon Pecans
1/4 cup pecans
1/2 teaspoon honey
1/2 teaspoon vanilla
2 teaspoons cinnamon
Instructions
For salad:
Wash lettuce or spinach and pat dry. 
Cut pears into bite-sized pieces just before serving so they do not brown. 
Add pears, dried cranberries, and pecans to salad. 
Top with dressing of your choice.
For cinnamon pecans:
Combine honey and vanilla.
Add pecans and mix. 
Sprinkle with cinnamon and toss. 
Place on a greased baking sheet and bake at 275 degrees F for approximately 20 minutes, stirring every 5 minutes.  Cool. Karyn Catrine, MS, RDN, LD
MS, RDN, LD