Print this recipe
Oatmeal Pancakes
Servings:

2

Calories:

218

kcal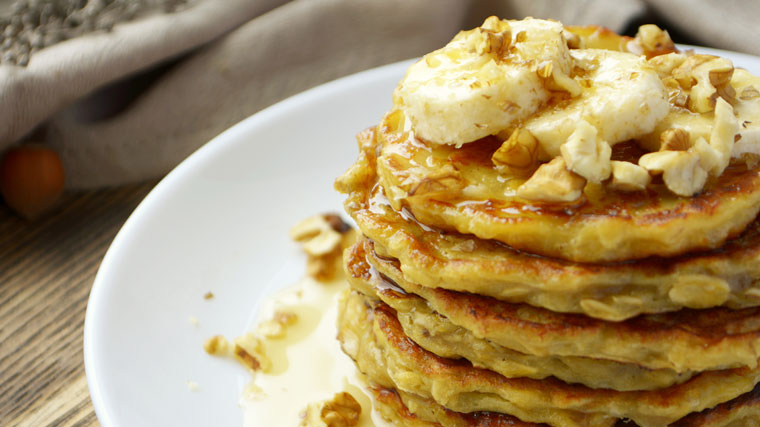 Get your day off to a healthy start with these pancakes. Try the recipe now!
Ingredients
2 eggs
1/2 cup instant oats
2 bananas
1 teaspoon cinnamon
1 teaspoon vanilla extract
2 teaspoon maple syrup to serve (optional)
Instructions
In a medium bowl, mash the 2 bananas completely.
Crack the eggs into the same bowl and whisk to combine.
Add oats, cinnamon, and vanilla to the bowl. Stir to combine.
Heat a large skillet over medium heat. Spray with cooking oil or add 1/2 teaspoon butter and melt completely.
For each pancake, spoon about 3 tablespoons of the mixture onto the skillet to make several small pancakes, about 3 inches in diameter. You should be able to fit 3 to 4 pancakes in a large skillet.
Cook the pancakes until bubbles rise and burst from the batter, about 2-3 minutes, and flip with a spatula. Cook for another 2 minutes.
Serve warm with syrup or other desired toppings! Rachael Harmon
Dietetic Intern