Sling Safety For Baby And You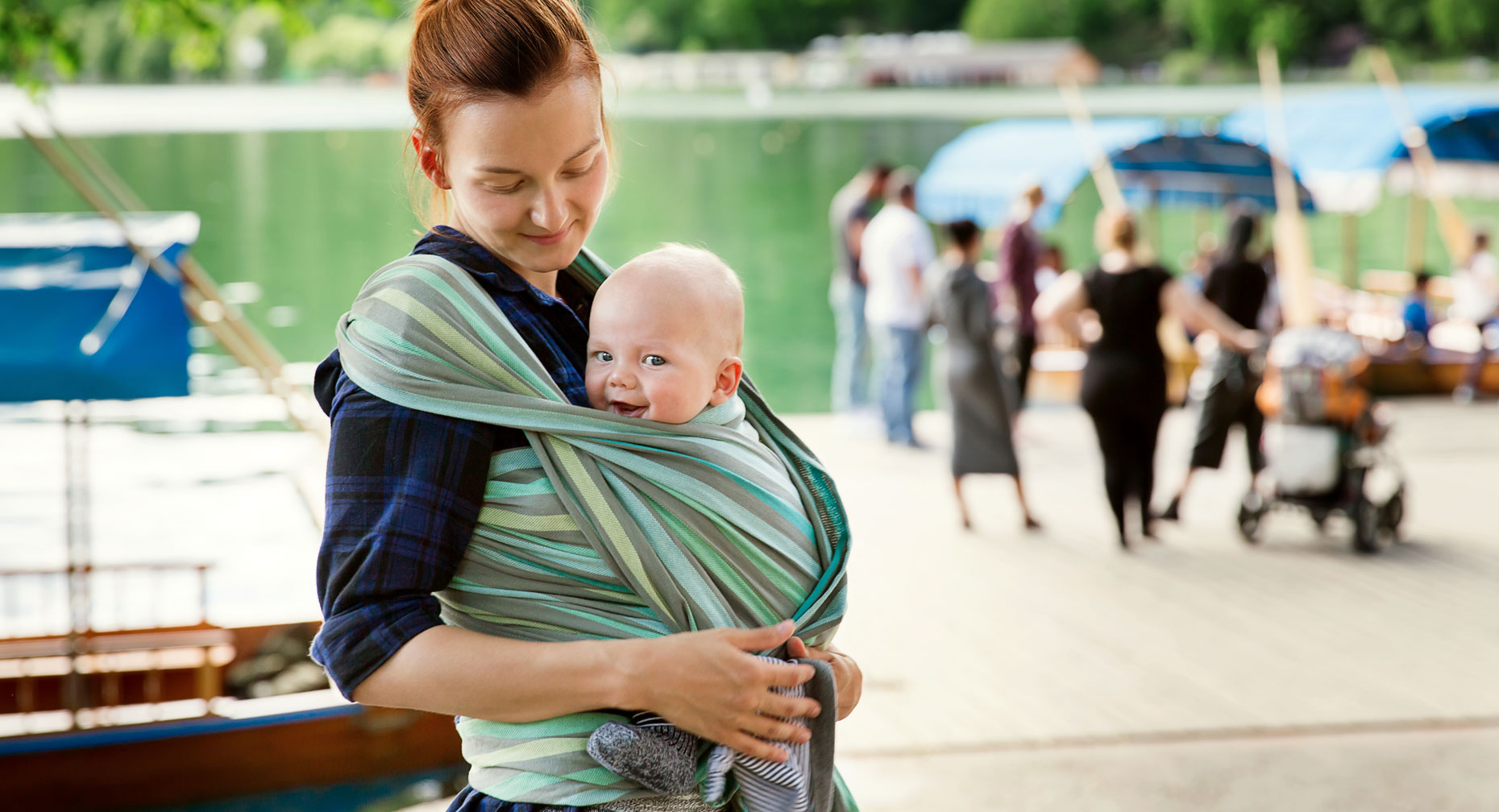 Find Your Perfect Match
Answer a few questions and we'll provide you with a list of primary care providers that best fit your needs.
You've likely noticed more moms and dads "babywearing" in recent years. New products on the market are making it easier than ever to choose a method for carrying your baby that is comfortable for both you and your little one
One of these products is the baby sling, made of a long piece of fabric that wraps around the wearer's body. It is adjustable to different body sizes, so both mom and dad can easily use the same carrier.
These slings offer closeness with your child, as well as the convenience of hands-free baby carrying. But they aren't without risk.
In 2010 the U.S. Consumer Product Safety Commission (CPSC) began investigating 14 infant deaths in slings from over a 20-year period. How did these deaths occur, and how can you carry your baby safely? Read on for must-know sling facts.
Why Is a Sling Risky For Infants Under 4 Months Old?
The infant deaths studied by the CPSC were due to suffocation. "Infants under 4 months old have weak neck muscles. If they become lodged into a position in a sling where their nose and mouth are covered, they're unable to lift their heads to breathe," says Melinda Mintkenbaugh, RN.
Beware two potential suffocation hazards:
When worn incorrectly, the sling's fabric can press on an infant's nose and mouth, blocking the baby's breathing. If this occurs, a baby can suffocate quickly, within one to two minutes.
In a sling, a baby can end up curled in a "C" position, with chin resting on chest. This position can restrict the baby's airway and cut off the oxygen supply. The baby can't cry out and can end up slowly suffocating.
How Can I Use a Sling Safely?
To reduce the risk of your baby suffocating in a sling, wear this type of carrier only after she can hold her head up well and look around. "In terms of safety, slings make good carriers when a baby is older, not for newborns," Young says.
Slings make good carriers when a baby is older, not for newborns
Here are some tips for keeping your little one safe in a sling:
Position baby carefully. Keep your baby upright with her nose and mouth clear. Her face should be at or above the rim of the sling and clear of fabric or any other obstruction. When you bend over, bend at your knees rather than your waist, so you are less likely to reposition your baby as you move.
Check on your baby often. Babies are wiggly. Make sure yours doesn't slip down and get his nose or mouth pressed up against you or the fabric of the sling. You should be able to see your baby's face at all times while he's in the sling.
Talk to your doctor. If your baby was a low birth-weight twin, born prematurely, or has breathing issues (such as respiratory problems or a cold), talk to your doctor before using a sling. In the CPSC study, many of the babies who died of suffocation while in a sling fit this description.
Reposition baby after breastfeeding. If you breastfeed your baby in the sling, make sure to put her back into an upright position, with her face visible to you, after feeding time is over.
Move sleepy babies to a crib. Do not allow your baby to regularly sleep in a sling. The safest place for baby to sleep is alone in a crib.
What Should I Look For When Buying a Baby Sling?
It pays to do your research when shopping for baby carriers. You'll see many options. You'll want to find one that is safe and that both you and your baby like. Here are some tips before heading to the store:
Look for classes. A lot of communities have classes where you can learn about the benefits of babywearing, as well as try out different styles of carriers. This can help you determine what kind of carrier you like, plus how to get into and out of it.
Buy new. While many slings are high quality, the fabric that they're made of can rip and/or wear out. It's best to buy new rather than get one secondhand.
Read the fine print. Always follow the manufacturer's directions for infant carriers. Choose a carrier that fits your baby's age and weight. When you decide to buy a sling, remember these are best for babies over 4 months old. Keep in mind that an infant's head and neck muscles are not fully developed and need to be properly supported in the early months.
Monitor recalls. The CPSC keeps a list of recalled products, and you can sign up for email notifications for future recalls.
Safety standards for infant carriers are in the works, so manufacturers will have helpful guidelines to follow in the future. Until then, use these tips and your best judgment to keep your baby safe.
Find Your Perfect Match
Answer a few questions and we'll provide you with a list of primary care providers that best fit your needs.
Source: U.S. Consumer Product Safety Commission (CPSC); Consumer Reports; American Academy of Pediatrics; Melinda Mintkenbaugh, RN Melinda Mintkenbaugh
RN