Sick-Day Prep For Managing Diabetes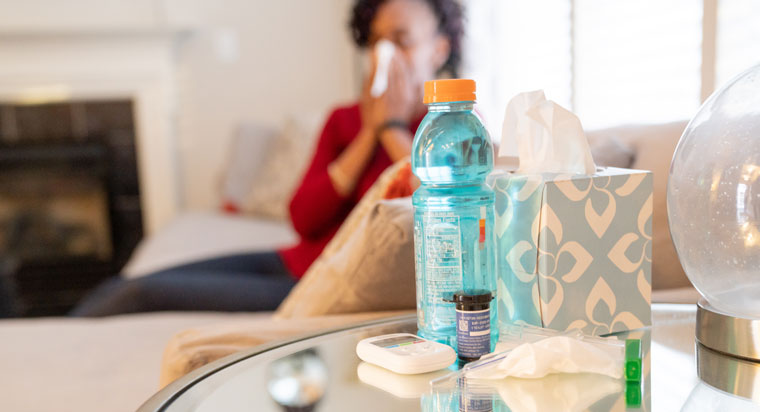 Find Your Perfect Match
Answer a few questions and we'll provide you with a list of primary care providers that best fit your needs.
Nobody likes getting the flu, colds, or other contagious illnesses. But for most people, these bugs pose minimal risk – unless you have a risk factor like diabetes.
People with diabetes face greater health risks when they get sick, for several reasons:
Diabetes can weaken the immune system, making it more difficult to fight infections.
Illness increases stress hormones, which drive up your blood glucose.
Fever, nausea, diarrhea, severe congestion, and other symptoms can leave you dehydrated or decrease your appetite, leaving you with lower blood glucose levels.
You can't always avoid getting sick, but you can reduce your risk of catching something by:
Getting a flu shot every year
Frequently and thoroughly washing your hands
Avoiding sick people
For those times you can't dodge illness, it's crucial to have a sick-day plan, says Carol Nartker, RDN, LD, CDE, registered dietitian and certified diabetes educator at Miami Valley Hospital Diabetes Center.
"Having diabetes requires greater vigilance for blood glucose control to avoid short-term complications and the need for acute care," Nartker says.
People with diabetes face greater health risks when they get sick.
9 Steps To Creating a Sick-Day Plan
Nartker recommends the following in preparing for and managing the times when a bug gets the best of you:
First and foremost, talk to your physician before you get sick. Make sure you know how often to check your blood glucose levels, whether you should check for ketones in your blood or urine, whether you should change your usual dose of your diabetes medicines, and what to eat and drink. Also, ask how to reach him after hours, and how to know when it's time to seek emergency care.
Keep a thermometer at home.
When you're sick, keep detailed records of your blood glucose, temperature, weight, and symptoms, and note the time when you record them. Having this information is key if you need to call your physician, Nartker says, because "you can make safer and more intelligent decisions."
Always take your medication and/or insulin, even if you're vomiting or unable to eat. "Your body has a great need for insulin when it's under stress," Nartker says.
Make sure you have a support person who can check in on you. If you don't have a caregiver, see if you can find a trustworthy friend or neighbor, someone through your church, or someone in a diabetes support group (if you belong to one) who will agree to check on you when you're ill.
Drink plenty of calorie-free fluids – four to six ounces every half hour.
Weigh yourself daily.
Keep some over-the-counter medicines on hand, such as milk of magnesia, anti-diarrheal medicine, antacids, a pain reliever, and suppositories for vomiting. However, talk to a pharmacist first about which ones are recommended for people with diabetes.
In case your blood glucose drops below recommended levels, keep the following on hand: sports drinks, small containers of juice, canned soup, regular (not sugar-free) gelatin, regular soft drinks, instant cooked cereals, crackers, instant pudding, and unsweetened applesauce.
When To Seek Help
If you experience any of the following problems, call your physician or go to an emergency department. (If you do need emergency treatment, don't drive. Call 911.)
Moderate to high ketone levels in your urine
Inability to keep any liquids down for more than four hours
A loss of five pounds or more during the illness
Blood glucose lower than 60 mg/dl or over 250 mg/dl on two checks
Unable to eat normally and/or keep down food for more than 24 hours
Vomiting and/or severe diarrhea for more than six hours
Temperature over 101 degrees F for 24 hours
Trouble breathing
Confusion or inability to think clearly
Taking good care of your health, like regularly checking your blood glucose and following your diet and exercise plans before you get sick, will pay off if you do become ill. Likewise, Nartker says, "If you can identify your illness early and be aggressive about managing it, you'll be more likely to have a better recovery."
Find Your Perfect Match
Answer a few questions and we'll provide you with a list of primary care providers that best fit your needs.
Sources: Diabetes Forecast magazine; American Diabetes Association; National Institute of Diabetes and Digestive and Kidney Diseases (National Institutes of Health); Carol Nartker, RDN, LD, CDE