How Belly Bands And Belts Help Relieve Pregnancy's Discomfort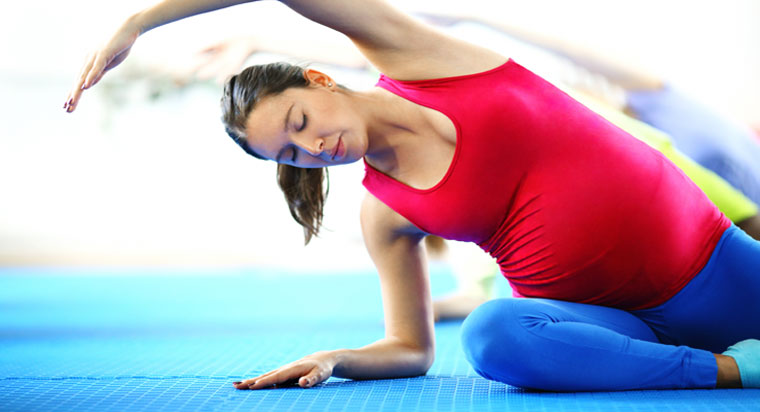 Find Your Perfect Match
Answer a few questions and we'll provide you with a list of primary care providers that best fit your needs.
The little bundle of joy you carry for nine months as an expectant mother can also be a growing source of strain and pain. But many moms-in-waiting find some relief from wearing belly bands or belly belts, which provide support, helping reduce pelvic and hip pain during pregnancy.
Many moms say that belly bands or belts reduce pregnancy pains and help them feel better, especially later in pregnancy, though there is limited scientific evidence to fully support their use.
"As the uterus grows, all the ligaments that wrap around the abdomen are stretched and pulled and can cause a lot of pain in the back, pelvis and hips," says Charissa Newton, certified nurse midwife at the Premier Health Center for Women's Health & Wellness in Mason. "A belt adds a little extra support and can help get you through your daily activities with less pain."
Types of Maternity Support Wear
Belly bands, which are flexible, tube-like garments, can provide mild compression and support the hips and lower back. They also serve as a useful fashion accessory. Many women wear the bands around their bellies to cover unbuttoned or unzipped pants, and to cover skin that gets exposed as the belly expands. Belly bands come in many different sizes, shapes, colors, and designs.
Belly belts are rigid belts that wrap around the belly to help support the lower back, pelvis, hips, and abdomen during pregnancy. Belly belts usually sit on top of clothing, but some women wear them underneath. Belly belts are narrow and strap-like.
In general, belts are more customizable and can be adjusted to fit you. They provide firmer support, which can help with balance and posture, especially as your center of gravity changes, Newton says.
"A belt adds a little extra support and can help get you through your daily activities with less pain."
The Benefits Of Belly Bands And Belts
Belly bands and belly belts can provide several positive effects:
Decreased leg swelling. When the weight of your baby bump is more evenly distributed, you experience less lower back and leg strain. This can lead to less leg swelling during pregnancy.
Improved posture. Belly belts can stabilize your abdomen and lower back by evening out your center of gravity. A 2018 study found that 90 women who wore a maternity support belt enjoyed slightly improved posture during all trimesters.
Exercise made easier. According to the American College of Obstetricians and Gynecologists, wearing a belly belt during the later stages of pregnancy may make running or walking more comfortable. A belly belt may also help pregnant women avoid injury while exercising.
Lower risk of falls. Belly bands stabilize your pelvis and may improve your balance.
Reduced pregnancy aches and pains. Belly belts more evenly distribute your baby's weight over your abdomen and lower back. This alleviates pressure on lower body muscles, ligaments, joints, and back, lessening pain.
Prevention of pre-term contractions. The support and stability provided by belly bands and belts reduces overall stress on the body and may help prevent pre-term contractions.
Reduced bladder pressure. Belly belts lift your abdomen and baby's weight, relieving pressure on your bladder.
Stabilized sacroiliac joints. The ligaments in these hip joints loosen during pregnancy, which can cause pain. Distributing your baby's weight with a belly belt can reduce this pain and discomfort caused by sciatica.
Considerations Before Wearing a Belt Or Band
Being pregnant does not mean that you have to be uncomfortable all the time. Maternity support belts can offer much-needed relief, but they should be used in moderation.
"Wear it during the times you are more uncomfortable," Newton says. "It does provide compression, so you don't want to wear it all the time because you want to encourage proper blood flow."
As you consider how to use a belly band or belly belt, remember these tips:
Talk with your doctor. Discuss your symptoms and make sure nothing unusual is going on.
Check insurance coverage. Some insurance plans cover a baby belt if your doctor writes a prescription for one.
Limit use. Wearing a belly band or belt too often can reduce air flow to your skin and be too restrictive for the body. The extra layer of material can also make you hot. Many manufacturers recommend wearing the devices for three to four hours a day. Talk to your doctor about the best amount of time for you.
Wear snugly. You want your maternity support garment to be snug, but not tight. Bands and belts that are too tight can cause discomfort and pain.
Consider price. Belly bands and belts can be costly. Consider factoring them into your budget as you plan for your baby.
Check appearance. Some belly belts are noticeable and show under your clothing. Think about the best clothes to wear with your belt.
"A lot of women use bands and belts and find them helpful," Newton says. "I tell my patients who might need them to try one and if it helps, great! It's an easy, non-invasive intervention."
Find Your Perfect Match
Answer a few questions and we'll provide you with a list of primary care providers that best fit your needs.
Sources: Charissa Newton, CNM, Premier Health Center for Women's Health & Wellness; Medical News Today; BabyGaga.com; Tummywear.org; American College of Obstetricians and Gynecologists; Pregnancy: Pelvic and Hip Pain, Healthwise, 5/29/2019