9 Tips for Hitting the Road with Diabetes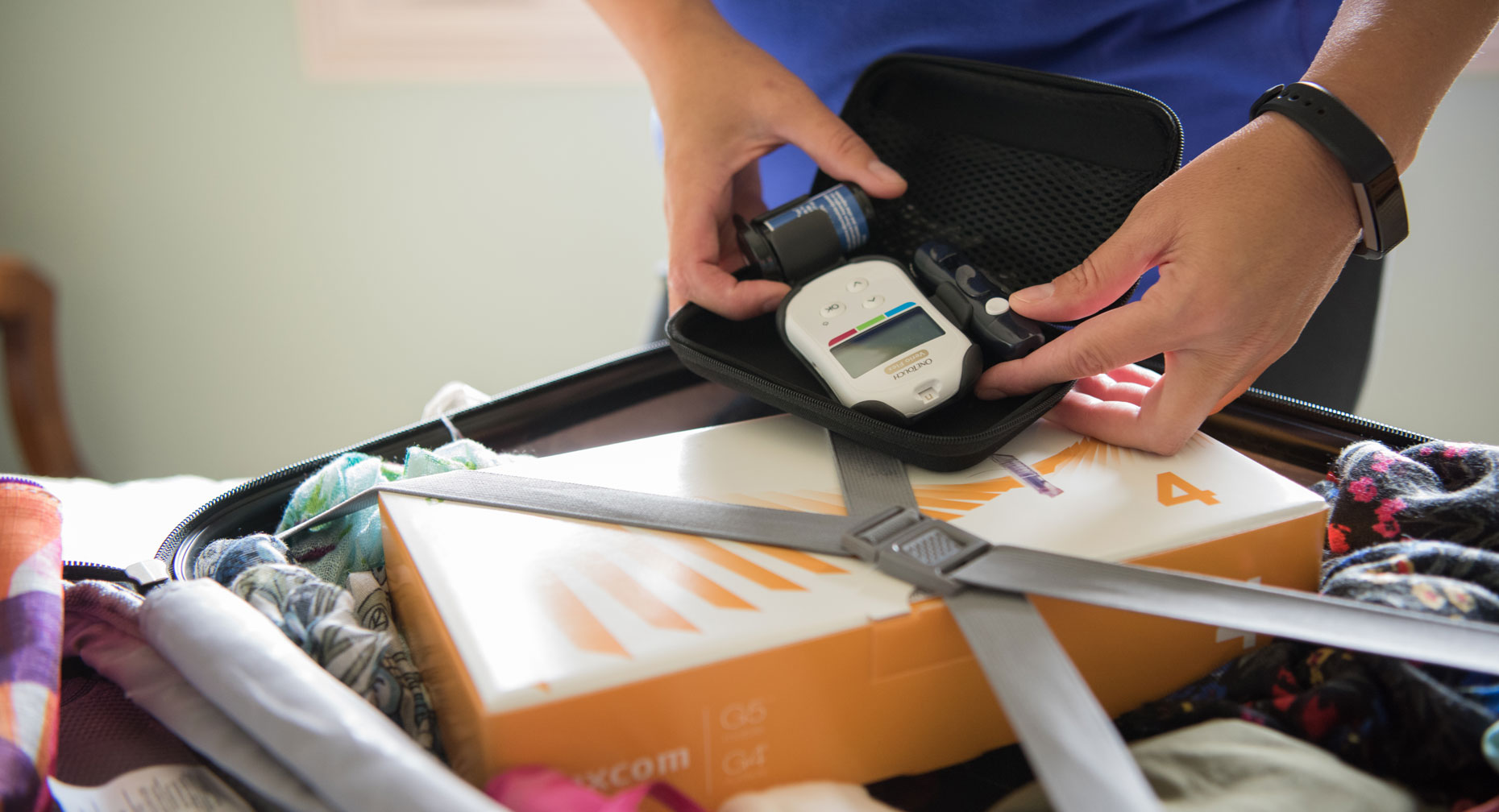 Traveling is a lot of fun — for most people. But when you have a chronic health issue like diabetes, fun can fly out the window if you don't plan accordingly.
Diabetes presents particular challenges because it often means traveling with lots of "stuff," including testing supplies, medications and/or insulin pumps. In addition, you're away from your kitchen, so you also have to worry about finding food appropriate for a low-carb diet.
Rebecca Roberts, Nurse Practitioner (ANP-BC) and certified diabetes educator at Bull Family Diabetes Center, offers tips for a smooth and enjoyable trip.
1. Visit the Transportation Security Administration (TSA) Website
If you're flying to your destination, Roberts recommends that you check out the TSA website
well in advance of your trip.
This site will tell you what you can carry on versus what can go in your checked bag (almost all diabetic supplies can be carried on, but check first to be sure.) It will also advise you on how to pack your items, and covers what to expect during the screening and/or pat-down.
The American Diabetes Association
also offers timely advice on knowing your rights when you go through a screening checkpoint.
2. Bring Documentation
Talk to your doctor's office before you travel. "They can provide you with a travel letter that confirms your diagnosis and your need to carry supplies," Roberts says. "Also, make sure you carry your prescriptions in their original bottle, with the label on the bottle."
Roberts also suggests bringing along important medical information, like the phone numbers of your doctor and any other medical specialists. Also, bring written prescriptions with you, in the event that you need a refill.
3. Always Carry On Your Prescriptions and Supplies
Pack your medicines in a clear plastic bag and carry them onboard with you. It's not a good idea to put any of your diabetes supplies and medicine in luggage that you plan to check. "You don't want a situation where your luggage (with your supplies and medications) is in California, and you're in New York," Roberts says. Instead, carry them with you on the flight.
4. Bring Extra Supplies and Medications
If possible, bring some extra medication and supplies — enough for at least an extra two days, in case your return home is delayed. Also, "you never know when you might drop a pill and lose it," reminds Roberts.
Roberts also notes that many insulin pump manufacturers will lend you a back-up pump for travel (in case something goes wrong with yours). Check with your doctor's office or the pump manufacturer to make arrangements.
5. Arrive Early at the Airport
Travelers with diabetes need extra time for screening all the medical items they carry on. The American Diabetes Association recommends that you arrive at the airport two to three hours in advance of your flight.
6. Bring Supplies for Low Blood Sugar
Roberts recommends keeping a supply of carbohydrate-boosting snacks with you, like granola bars and nuts, in case your blood sugar drops, as well as glucose tablets. You never know when you might get stuck on a plane during a delay or encounter some other obstacle that leaves you without food for a particular length of time.
If possible, bring some extra medication and supplies — enough for at least an extra two days, in case your return home is delayed.
7. Mind Your Food and Drink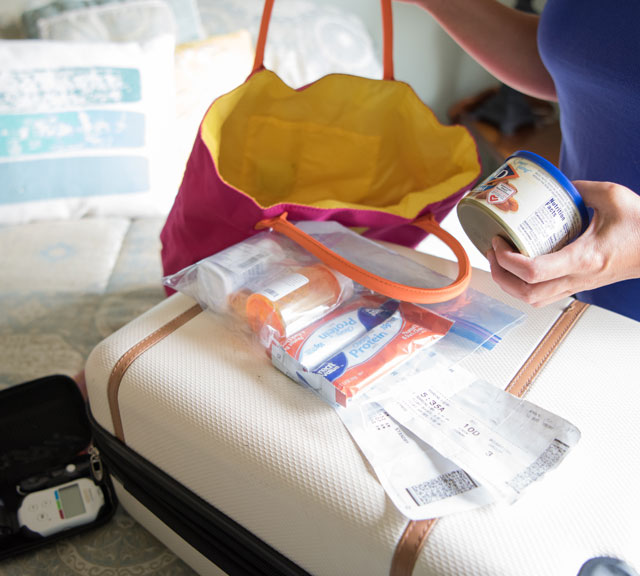 Don't let poor food choices ruin your trip. If possible, familiarize yourself with the local cuisine, and try to avoid food that is most likely to be high in carbs (like breads and white rice), as well as sweet food and juices. And don't forget to drink lots of water.
8. Pay Attention to Altitudes and Activity
Roberts says that different altitudes and an increase in activity can affect your insulin and blood sugar levels. Make sure you monitor your blood sugar levels regularly so you can watch for, and correct, relevant changes.
9. Learn the Language
If you are traveling to a non-English-speaking area, make sure you learn (or have access to translating) key medical words and phrases, like "I have diabetes," or "I need a doctor." You might also consider wearing a medical identification medal or bracelet, because the medical symbol on it is an international icon and recognized in many cultures.
Trips are supposed to be fun, and they still can be, despite your diagnosis. "Just remember to prepare and take care of yourself so you can have a good time," Roberts says.
Source: American Diabetes Association; U.S. Department of Homeland Security; Transportation Security Administration; Rebecca Roberts; Nurse Practitioner (ANP-BC) and certified diabetes educator; Bull Family Diabetes Center