Total Shoulder Replacement Provides Relief, Increased Quality Of Life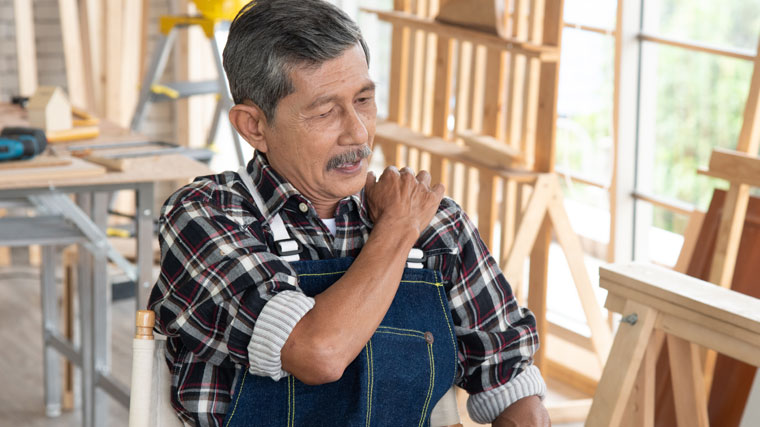 Find Your Perfect Match
Answer a few questions and we'll provide you with a list of primary care providers that best fit your needs.
Hip and knee replacements have become a routine surgical procedure in the United States, and offer millions of Americans a reprieve from the pain and disability that comes from the damage done by arthritis and injuries.
Unfortunately, total shoulder replacement – while offering the same level of success – has yet to garner strong awareness among those who really need it, according to orthopedic surgeons with Premier Orthopedics.
"Nearly everyone over the age of 60 has a friend or loved one who has undergone a knee or hip replacement and they know what to anticipate, but total shoulder replacement is a different story," says Michael Griesser, MD, who along with Anthony Checroun, MD, and Michael Herbenick, MD, performs total shoulder replacements.
A total shoulder replacement is when the shoulder's normal ball and socket joint is removed and replaced with metal and plastic parts. There are several reasons a person may consider a total shoulder replacement, such as osteoarthritis of the shoulder joint, fractures within the shoulder joint, rotator cuff tear, or a combination of all three conditions, Dr. Griesser explains.
Improved Quality Of Life With Shoulder Replacement
Total shoulder replacement surgery is a newer procedure, but has made significant strides since it was first introduced about 15 years ago. Dr. Griesser says he fields a host of questions from patients, such as, "Is this an experimental procedure?" or "Is this something that is done regularly?"
"I tell them that, in many ways, it is very similar to a total hip or knee replacement," he says. "It's an inpatient surgery that will provide significant improvement to a person's quality of life within the first few months of their recovery."
Dr. Checroun adds that a person undergoes a total shoulder replacement after conservative treatment measures have failed. These may include injections, anti-inflammatories, time, rest, and physical therapy. A fracture in the shoulder, for instance, may not respond to nonoperative therapies and can prolong the pain and lessen a person's quality of life, he said. Other conditions such as arthritis and a rotator cuff tear oftentimes respond to conservative measures and help a person avoid surgery altogether.
"Nonoperative treatments can be used as long as the patient is comfortable and progressing well in terms of their pain," Dr. Checroun says. "In fact, in many cases, we can use nonoperative therapies to avoid a patient ever needing a total shoulder replacement."
Manual laborers, people who regularly work with their hands and arms, are at a greater risk of developing conditions or injuries that may need a total shoulder replacement. Those who are predisposed to arthritis or have experienced an injury to their rotator cuff are also at a higher risk.
Unfortunately, it is common for people to live with pain or a disability that could be corrected or improved with a total shoulder replacement. Dr. Herbenick says he has seen patients come into his office complaining of shoulder pain that has been around for at least six months.
"I can't stress enough how important it is for people who have pain like this get evaluated as soon as it begins to impact their quality of life. The longer a person waits to have it evaluated, the harder it will be to intervene and improve upon it. Everyone has aches and pains, but they should get it evaluated if it doesn't go away after two weeks and does not respond to rest and anti-inflammatories."
Find Your Perfect Match
Answer a few questions and we'll provide you with a list of primary care providers that best fit your needs.
Source: Michael Griesser, MD; Anthony Checroun, MD; Michael Herbenick, MD, Premier Orthopedics