Surfer Beware: Be Careful With Online Health Information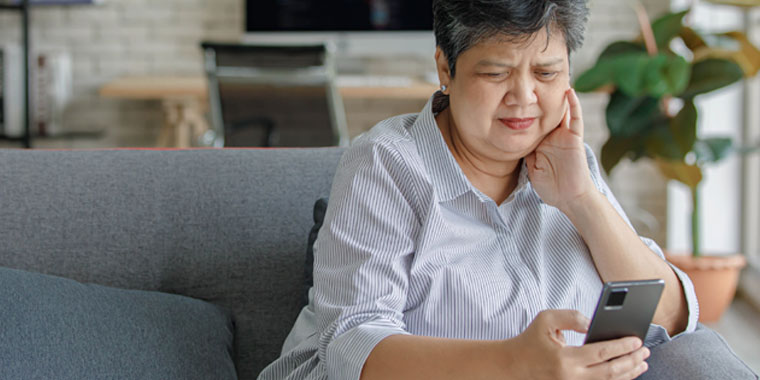 Find Your Perfect Match
Answer a few questions and we'll provide you with a list of primary care providers that best fit your needs.
Online health information has become the first stop for many seeking health advice – even before talking to their own doctor – according to a recent survey of 2,000 adult consumers. Of those surveyed, 65 percent turned to Google, 33 percent to YouTube, and 20 percent to TikTok.
Although instant accessibility has its benefits, Kevin Baker, a Premier Health family nurse practitioner, told Premier Health Now that it's only part of the equation. What's most important is obtaining accurate information from a trusted resource, he says.
"In our fast-moving tech world, people want fast answers and a quick fix. It's good to get as much knowledge as possible, but discerning facts from opinions can be a fine line," he states.
"A lot of influencers are paid to push a product or sell something," Baker says. "They often have no medical background. Stay away from ads that say 'you must do this to get this result.' Instead, bring your concerns to your primary care provider."
In general, he recommends against going to social media for health care information. Instead, he suggests that you consult resources trusted by the medical community such as:
"Look for sites with '.gov' or '.org' and avoid those with '.com' when you are looking for trustworthy medical information," Baker adds.
Anxiety, Depression, Weight Loss Most Common Health Search Topics
The online health information survey, privately funded by prescription discount card company CharityRx, also found that Americans most commonly turn to social media influencers for guidance on anxiety, weight loss, and depression. People often sought out these influencers for their "relatability" but further sought to fact-check any product or treatment endorsements.
Baker says, "There may be a shortage of readily available solutions for these conditions, but don't rely on someone who has no medical background. I believe a family practitioner or other primary care provider is the perfect place to start. Your provider can recommend non-pharmacologic remedies such as changes in diet, exercise, hydration, and proper sleep. We can also prescribe medications if you need them."
If you want to start online for mental health information, he recommends the National Alliance on Mental Illness (NAMI) or websites of major hospitals.
Whatever you are researching, Baker says, "the volume of health information out there can be overwhelming. Write down a list of questions to guide you in talking with your health care provider. Your provider will help you figure out what's factual and what steps to take to address your medical issue or concerns."
Find Your Perfect Match
Answer a few questions and we'll provide you with a list of primary care providers that best fit your needs.
Sources: Kevin Baker, FNP, Premier Health Rheumatology; Fast Company