Packing For a COVID-Free Day At the Pool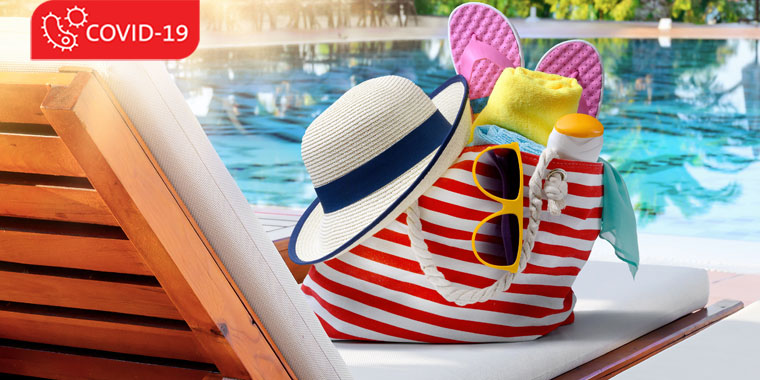 If you're headed to the pool to celebrate the unofficial beginning of summer, you already know the drill: sunscreen, towels, hats, water toys. But COVID-19 has changed lots of routines, and packing for the pool is one of them.
With the virus in mind, Premier Health Now asked nurse practitioner Brittany Jamison MSN, APRN, FNP-C, what should be included in the pool bag this time around.
"Snack stations and drinking fountains may not be open," Jamison reminds us. "So bring plenty of drinking water, electrolyte solutions like Gatorade, snacks in a cooler, and anything else you need for a fun day in the sun."
To prevent a trip to the changing room as soon as you get there, arrive at the pool "swim ready." And bring a mask for every family member so that you're prepared to follow pool guidelines for changing areas and restrooms. Hand sanitizer and flip flops are also a must in these areas.
Some things that used to be readily accessible at the pool, like kick boards or life jackets, may not be available this summer, Jamison warns. When in doubt, pack your own. Also pack hand sanitizer spray — or gel in a pump or tube — with at least 60 percent alcohol, she adds. "And a pack of antibacterial wipes or alcohol-based wipes for wiping down pool chairs, tables, and pool toys." As an added precaution, Jamison recommends packing a first aid kit just in case.
This summer your pool noodle can serve double-duty. It's more than a pool toy. Because the typical noodle is just a little bit shorter than six feet, it's the perfect measuring device when social distancing is necessary.
"Your pool may be enforcing social distancing guidelines or other disinfection techniques and policies, which can be challenging for pool staff," says Jamison. "Be kind and courteous to all staff members. They aren't trying to limit your fun, they're trying to keep your family safe and encourage a return to summer activities."
Source: Brittany Jamison, MSN, APRN, FNP-C, Premier Health Urgent Care in Springboro; Centers for Disease Control and Prevention