Managing Asthma In the Midst Of COVID-19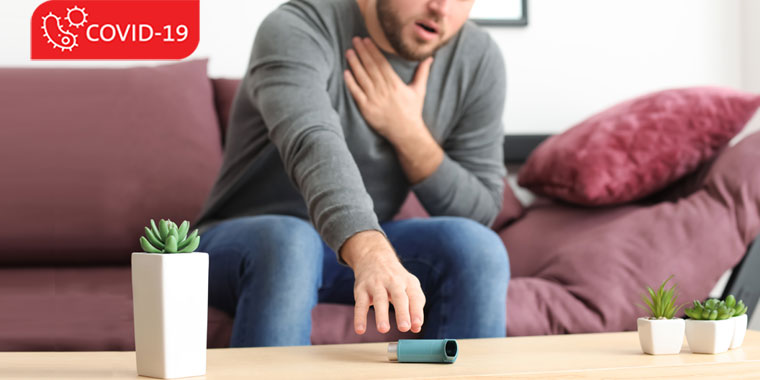 News broke recently that Denver Broncos linebacker Von Miller has tested positive for the coronavirus. Though it was certainly noteworthy that Miller became just the second active NFL player to test positive for COVID-19, it was additionally important to understand that Miller also suffers from asthma despite being a professional athlete.

Though initial reports are that Miller's condition is being successfully monitored and managed, it does raise questions about how those with asthma can protect themselves from the virus.

Premier Health Now recently spoke with certified nurse practitioner Sara Wilson-Rector, APRN-CNP, FNP-C, of Premier Health Family Care of Vandalia to learn more about the health risks that COVID-19 poses for asthma sufferers, and what they can do to stay safe and healthy.
Common Sense In an Uncommon Time
The Centers for Disease Control and Prevention estimate that approximately 25 million Americans currently suffer from asthma, which is also linked to a variety of pulmonary illnesses.

"Basically, someone who is asthmatic is someone who has been previously diagnosed and often uses a daily maintenance inhaler, or an intermittent rescue inhaler in more mild cases," says Wilson-Rector. "They fall into a category of people who have an underlying chronic respiratory condition, similar to those with COPD. Since we know COVID-19 attacks the respiratory system, people with asthma are considered to be at a higher risk for developing complications from the virus."

Though much is still being learned about the virus, there has been some concern about using oral or injected steroid asthma treatments, since they can weaken a person's immune system. As a result, practitioners are being advised to use more caution during the pandemic, Wilson-Rector says. At the same time, avoiding steroid treatments altogether can place you at greater risk of having an asthma attack, so it's important to work closely with your provider to determine the best course of treatment. Wilson-Rector advises patients who are using an inhaler with steroids to continue doing so unless directed otherwise.

"You should keep taking your prescribed medication, since stopping could definitely increase your risk of developing asthma-related complications, which could be just as dangerous as COVID-19," says Wilson-Rector. "It's also important to be aware that as we enter spring, we're stepping into prime allergy season, so you should also talk with your doctor about possibly incorporating antihistamines and other seasonal allergy medications that can prevent other asthma-related triggers."

Above all, Wilson-Rector advises people to be aware of their symptoms and closely communicate any milder changes with their doctor before visiting an emergency room, where exposure to the coronavirus can be increased. Severe respiratory issues, however, may require a much more aggressive approach.

"It's a good rule of thumb to call your doctor first if you aren't sure whether you need to seek treatment," says Wilson-Rector. "But if you're having shortness of breath to the point it becomes difficult to speak or even take a few steps before having to sit, then you should call 911 or get someone to take you to the emergency room right away."


Source: Sara Wilson-Rector, APRN-CNP, FNP-C, Premier Health Family Care of Vandalia