High Risk Yet Resilient: Advice For Seniors During COVID-19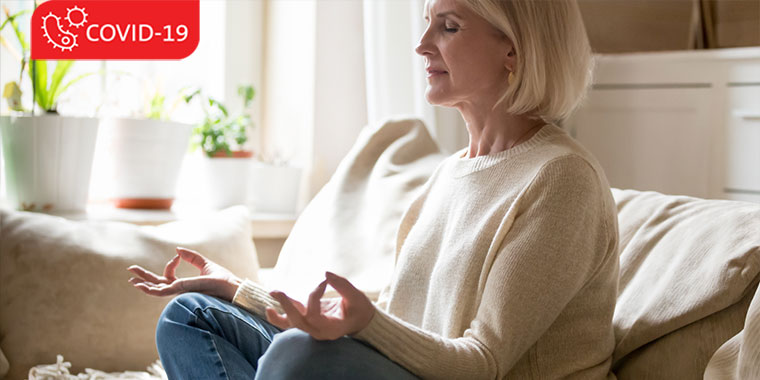 This season of COVID-19 may seem topsy-turvy. Especially if you're age 65-plus. Long accustomed to watching and worrying about children, grandchildren, nieces and nephews, the roles have reversed. Because you're considered to be at high risk for severe illness, those who are younger (and at lower risk) may be monitoring your activities instead.
Be Resilient
Show off your time-tested resilience by staying healthy both physically and mentally. Sara Wilson-Rector, APRN, FNP-C with Premier Health Family Care of Vandalia admits social isolation isn't good for anyone. "Humans do better with human interaction, which is why sheltering-in-place is understandably difficult."

It's refreshing to hear familiar voices, Wilson-Rector says. "Reach out to family, friends and neighbors. Video chatting can be especially nice, so if you have the tools but don't know how to set that up, ask for help." In-person visits, even if it means family and friends are standing outside the window, will help you feel more connected, she says.

Don't break your normal routine. "Get up, shower, and get dressed for the day," Wilson-Rector advises. "Even if you can't leave the house. It puts you in a different mindset than staying in your pajamas all day."

Regular exercise is a great stress reliever. If you can get out for a walk in the sun, or spend time in the garden, you'll feel the rewards, Wilson-Rector promises. "Look for exercise programs on TV or the computer. Keep moving."

Limit the time you spend watching TV and the news. "A brief news update a couple of times a day may be helpful, but don't let yourself get locked into endlessly watching. It can add to your anxiety," Wilson-Rector recommends.
A Change In Routine Can Be Fun
Show the younger generations that a change in routine can be fun.
Enjoy puzzles, paint-by-number, and Monopoly games that last all day.
Dust off the musical instrument you once enjoyed. Or those knitting needles.
Boost your positivity with a gratitude journal. Write down three things a day. Researchers say it can transform your life.
Transform someone else's life. Write them a letter. Recall a special moment or funny memory.
Have you tried meditating? Try it again. With practice you'll replace the chatter in your head with quiet and relaxation.
Purge your cabinets, closets, and drawers of things you no longer need. That includes those kitchen spices that expired years ago.
Don't Be Shy About Asking For Help
If COVID-19's uncertainty is taking its toll and you're feeling that something isn't right, speak with your doctor. "If you get tearful for no reason, or anxious, depressed or can't get interested in anything, let your doctor know," says Wilson-Rector. "There are medications to temporarily get you through a difficult period." And don't let your regular prescriptions lapse, she adds. "A doctor visit can be handled over the phone these days. Don't be shy about asking for help."


Source: Sara Wilson-Rector APRN, FNP-C, Premier Health Family Care of Vandalia; World Economic Forum