Getting Tested For COVID-19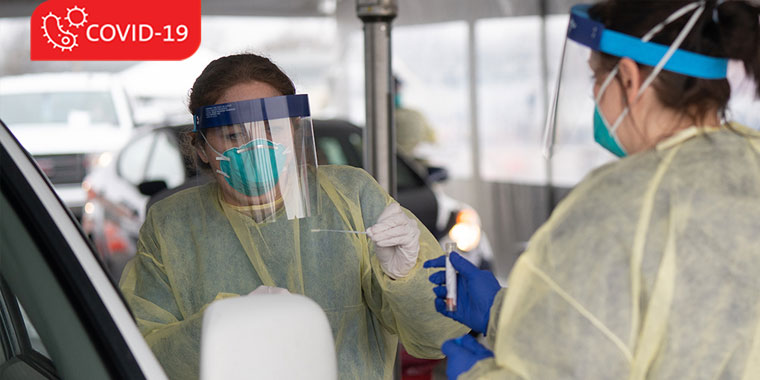 With confirmed cases of COVID-19 now in our region, it's important to know the facts about getting tested.
What Should I Do If I think I May Have COVID-19?
If you have symptoms of COVID-19 such as fever, dry cough, and/or difficulty breathing, stay home and call your primary care provider. Your doctor will determine if you have signs of COVID-19 and whether you should be tested. You cannot be tested without a physician's order.

Virtual visits are an alternative, providing the opportunity to video chat with a health care provider and minimizing the risk of exposure to yourself and others. Premier Virtual Care is available 24 hours a day, 7 days a week. The health care provider can evaluate your risk for COVID-19, answer your questions, and recommend next steps.

If your symptoms are severe, such as pain or pressure in your chest, confusion, or bluish lips or face, contact your physician or nearest emergency department and seek care immediately.
Where Is the Testing Performed?
Premier Health has collaborated with CompuNet, Premier Health Urgent Care, and the University of Dayton to open a drive-through testing site in the UD Arena parking lot at 1801 Edwin C. Moses Blvd. The site is open Monday through Friday from 1 to 5 p.m. If you arrive at the testing site without a physician's order, you will not be tested. Identification is also required for testing.
What Happens At the Testing Site?
You will remain in your vehicle for testing, explains Joseph Allen, MD, Premier Health Regional Medical Director and Premier Health Family Care of Vandalia. "Once we confirm you have a physician's order and an ID, we will direct you into the line for COVID-19 testing."

First, you will be checked to see if you have a fever and other symptoms consistent with COVID-19. If you are asymptomatic (do not have symptoms) you might not be tested even if you have a physician's order, following guidance from the Centers for Disease Control and Prevention.
If you do have symptoms of COVID-19 along with a physician's order and an ID, you likely will have a deep nasal swab taken. The testing takes just a few minutes. Once complete, your specimen will be sent to a lab for analysis.

"It's important for patients to understand we don't want them going into the hospital. We don't want them going into our offices if they can help it. If they're sick we want to get them tested in an area like this where we can get all of our resources in one place," Dr. Allen explains.
When Will I Get Test Results?
"The tests that we are drawing here at the UD Arena parking lot will be sent to our regional laboratory, and they should get done very quickly and back to us within three to five days," says Dr. Allen.
What If I Test Positive?
Remain in your home and stay away from others to prevent spreading the virus. Contact your health care provider or family care physician for advice. Currently there is no vaccine and no specific medicine to prevent or treat COVID-2019. If you have serious illness, your physician may want you to be hospitalized. Follow your physician's advice. Most patients recover using the same treatment you may use if you had the flu.
Source: Joseph Allen MD, Premier Health Regional Medical Director and Premier Health Family Medicine of Vandalia; Centers for Disease Control; World Health Organization