Doctor's Warning: 'Take Concussion Seriously'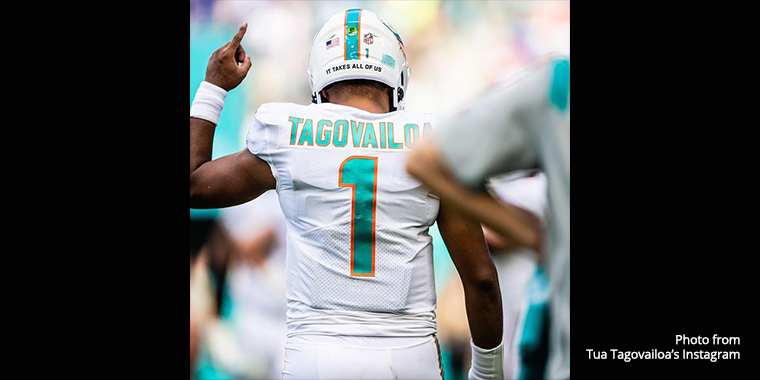 Find Your Perfect Match
Answer a few questions and we'll provide you with a list of primary care providers that best fit your needs.
It was a scary and sobering moment when Miami Dolphins quarterback Tua Tagovailoa appeared to suffer a concussion during last Thursday's NFL game with the Cincinnati Bengals. He was taken to the hospital after leaving the field on a stretcher, while fans in the stands and TV viewers worried about the potential consequences of what may have been his second concussion in less than a week.
Premier Health Now asked sports medicine specialist Jeffrey James, DO, what coaches and parents should look for if they suspect a concussion in their student athlete.
As a sideline physician for Centerville High School football games, and medical director and team physician for the University of Dayton, Dr. James says possible concussions are nothing to ignore. "I know that winning is a priority and athletes are anxious to get back in the game, but in some instances, doing so could lead to serious outcomes," he says.
Concussion's Causes And Symptoms
"A concussion can be the result of a direct impact, or an indirect hit like a rotational force or whiplash. It causes the brain to slosh around inside the head," Dr. James explains.
Think of the brain, which floats in fluid within the skull, like an egg yolk floating inside the shell of an egg. Shake the egg and the yolk slams into the shell, much like what occurs when the head gets a hit. The brain slams into the skull and a serious concussion, or traumatic brain injury, may result.
Symptoms vary, says Dr. James, and may occur immediately or over the course of minutes or hours. They can include:
Loss of consciousness
Disorientation when standing. "They may not know who they are, or where they are," says Dr. James.
Lightheadedness
Difficulty with vision
Emotional irritability, such as crying or anger
Difficulty sleeping
Being excessively fatigued
Balance problems
Uncharacteristic behavior
"These are the main things we look for, but it isn't likely we'd see all of them, and they may develop over the course of a day or two," says Dr. James.
Getting Back In the Game
In Ohio athletes are not allowed to return to their sport unless evaluated by a physician. "If I suspect concussion, I remove the athlete from the game and evaluate them thoroughly," Dr. James explains. He advises the athlete to monitor their symptoms and to follow up with their athletic trainer the day after they're injured, because concussion symptoms can develop later on.
"I tell the athlete and parents what to look for, and to make sure the athlete is eating well, staying well hydrated, sleeping restfully eight to 10 hours a night, and resting both physically and mentally. Activities that stimulate the brain can make them feel worse, like video games or schoolwork."
Concussion protocol of the Ohio High School Athletic Association requires that a physician evaluate the athlete to determine when they can be cleared to return to play. The protocol follows a progressive five-step return to activity process. As part of his assessment, Dr. James conducts neurocognitive testing to make sure the athlete is back to baseline before returning to competition.
"After a period of rest, light exercise can speed recovery, like slow walks or 10 to 15 minutes on an exercise bike, as long as it doesn't make them feel worse," says Dr. James.
Sometimes the Consequences Can Be Fatal
Some athletes, including professional soccer player Scott Vermillion, are diagnosed posthumously with chronic traumatic encephalopathy (CTE). This fatal brain disease is believed to be the result of repeated blows to the head with symptoms that may not show up until years later.
It's imperative that young athletes recovering from concussion follow their doctor's instructions before returning to their sport. "Concussion is a serious injury that can have grave consequences," warns Dr. James. "It needs to be taken seriously."
Find Your Perfect Match
Answer a few questions and we'll provide you with a list of primary care providers that best fit your needs.