COVID-19: All the More Reason To Control Your Diabetes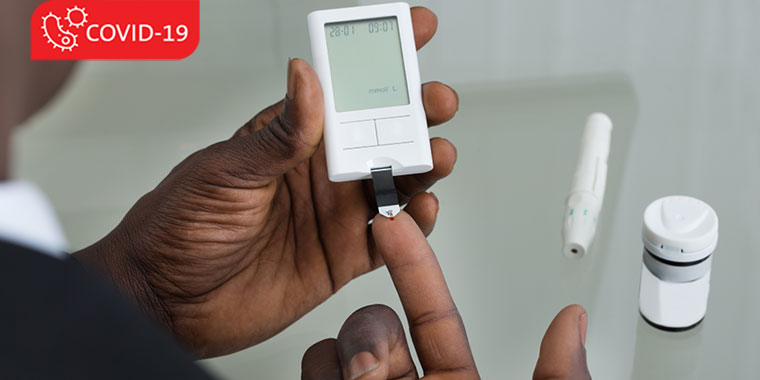 Find Your Perfect Match
Answer a few questions and we'll provide you with a list of primary care providers that best fit your needs.
You've likely heard that people with certain preexisting health conditions are at greater risk of serious complications with COVID-19 infections.

One of these conditions is diabetes. To be more specific, poorly controlled diabetes and blood sugar. That's what Miguel Parilo, MD, a physician who specializes in diabetes care at the Bull Family Diabetes Center, tells Premier Health Now.

"When you have poorly controlled diabetes, or high blood sugar, there are multiple negative effects on the body's systems," Dr. Parilo explains. For one, poorly managed diabetes weakens your body's immune system – "the body's ability to identify and mount an attack against an infection" like the COVID-19 virus.
Your Risk Is Not Increased If You're In Control
But if you have diabetes – and keep your blood sugar levels within the recommended range – "you do not increase your risk of acquiring the COVID-19 infection nor increase your risk of COVID-19-related complications above that of the general population," Dr. Parilo says.
"There's sort of this misconception that people with diabetes are generally more likely to acquire infections." That's not true, he says. "But you do carry a greater burden for severe complications if your diabetes is uncontrolled. If your blood sugar control is better, your odds of surviving an infection like COVID-19 are better."
'Time To Double Down'
This is why he advises: "If your control is not as good as it could be or should be, now is the time to double down on your efforts of monitoring your blood sugar, taking your medications as prescribed, eating as healthfully as you can, going for that walk, and getting other exercise – all those healthy habits your provider has talked about since you were diagnosed with diabetes."

Healthy eating, exercise, and diabetes control not only improve your physical health. These practices can also improve your mental and emotional health, further boosting your immunity to infections like COVID-19, Dr. Parilo says.

The good news, to help you manage your diabetes, is that supplies of insulin, diabetes medications, and supplies "are robust," and pharmacies are open, Dr. Parilo reports. "But if possible I recommend staying a little bit ahead with your supply of medications."

And if you're struggling financially, Diabetes Dayton offers the Diabetes Emergency Supply Assistance Program, and provides links to other available support.

Also check with your provider, Dr. Parilo adds.
It's Important To Stay In Touch
Some patients are skipping their regular doctor appointments because they're afraid of picking up germs out in public, says Dr. Parilo. "If you don't want to leave your home, don't skip your appointment. Indicate you prefer to have your appointment via video on your computer. Or if that's not possible, you can have a phone call. But don't skip it completely."
If you feel stressed, that's understandable, says Dr. Parilo. Talk to your provider about it. "Stress can affect your sleep, mood, and hormones, which can affect blood sugar regulation." Keep exercising, stay hydrated, and eat your fruits and veggies. Now is not the time to abandon healthy habits. "Any day is a good day to take control of your health," he adds.

Risks Of Poor Blood Sugar Control
Dr. Parilo cautions that failure to control your blood sugar – particularly if you have type 1 diabetes – can put you at risk of a potentially life-threatening condition called diabetic ketoacidosis (DKA). DKA is characterized by dangerously elevated blood sugar levels, usually requiring hospitalization. A variety of infections, like COVID-19, pneumonia, or a bladder infection, can trigger DKA.
And in some cases, people with diabetes can have more difficulty controlling their blood sugar while in the midst of an infection. "That's a reason for you to reach out to your health care provider" for guidance and intervention, says Dr. Parilo.

Another danger of poorly controlled diabetes is that "the inflammatory consequences of infections can be magnified, maybe making you more prone to respiratory failure as a result of COVID-19," Dr. Parilo warns.

He adds that many people with diabetes also have other risk factors, like heart disease, respiratory diseases, and advanced age, that can put them in increased danger of COVID-19 complications.
Staying Safe While Working With Diabetes
If you have diabetes and work for an employer deemed essential and exempted from the stay-at-home order, Dr. Parilo says your risk of potential COVID-19 exposure could be lessened by "working in less customer-facing areas," such as at home or by telephone.

"I have a lot of patients with diabetes who are health care workers," Dr. Parilo says. "Their services are in high demand, but they can still be useful in a less patient-exposed environment. A nurse who is doing bedside care may be able to work in a telehealth capacity and still be a vital piece of the health care system."
Keep Up To Date
Continue reducing your risk of COVID-19 by following the Centers for Disease Control and Prevention COVID-19 guidelines and following CDC guidelines for what to do if you believe you have COVID-19 symptoms.
Dr. Parilo also recommends regularly checking the American Diabetes Association website. "It's fantastic when it comes to up-to-date information and resources specific to people with diabetes."
Find Your Perfect Match
Answer a few questions and we'll provide you with a list of primary care providers that best fit your needs.
Source: Miguel Parilo, MD, Bull Family Diabetes Center