Aphasia: When Words Escape You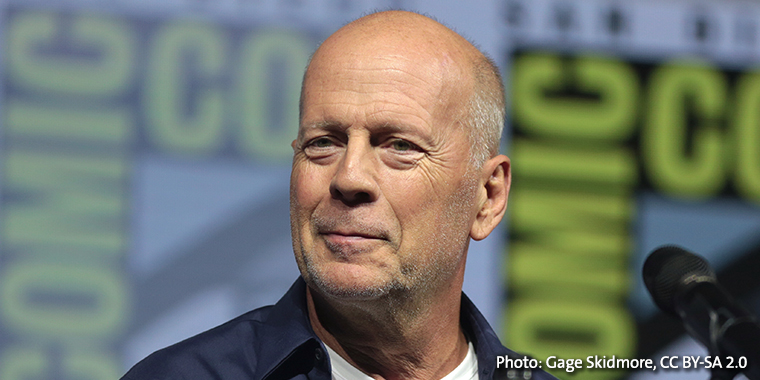 When Bruce Willis' family announced he would step away from acting due to aphasia, a medical condition that affects the ability to speak, write, and understand language, Premier Health Now went to Fadi Tayim, Ph.D., clinical neuropsychologist and Division Chief of the Brain Mapping Center at Premier Health's Clinical Neuroscience Institute, for an explanation.
The cause of Willis' aphasia hasn't been released to the media, but a variety of medical conditions can bring it on, Dr. Tayim told us.
The most common cause, he says, is stroke in the left frontal lobe of the brain, which in 95 percent of right-handed people controls expressive language, including the ability to speak, write, and understand language.
Other causes, he says, include:
Brain tumors in the left frontal lobe
Traumatic brain injuries, or concussion, caused by blunt trauma
Neurodegenerative diseases, such as Alzheimer's, which can result in aphasia that progresses over time
Can Aphasia Be Treated?
Whether aphasia can be treated or reversed, Dr. Tayim says, "almost exclusively depends on the cause." Treatment is most successful after strokes, particularly smaller strokes.
"Sometimes with smaller strokes, with appropriate rehabilitation, people can get back pretty close to their verbal baseline. If it's a more severe stroke and there's permanent damage or more extensive damage to the tissue, the chances of recovery to their pre-neurological incident level are a lot less likely."
No medication exists for aphasia. The most effective form of treatment, Dr. Tayim says, is speech therapy.
"It's a pretty intense process that lasts weeks or months of meeting several times a week, helping the patient find the words that they're trying to think of and helping learn different techniques to get their point across.
"Through rigorous speech therapy you can retrain your brain in the process of expressive (that is, spoken and written) language."
Speech therapy, he adds, is most effective in treating the most common of the many types of aphasia – that is, nonfluent, or Broca's aphasia. With this type, your comprehension of what other people say is stronger than your ability to say the words yourself.
The next most common type is fluent, or Wernicke's aphasia. With this type, Dr. Tayim says, "a person can speak but it doesn't make any sense. They're comprehending what you're asking, but what they're saying is almost entirely unrelated to what you're saying." This type of aphasia responds less to speech therapy.
Dr. Tayim, who is Division Chief of the Brain Mapping Center at Premier Health's Clinical Neuroscience Institute, adds that brain mapping can help reduce the risk of aphasia in patients with brain tumors. He conducts brain mapping before brain surgeries to help surgeons "bypass speech production and comprehension areas of the brain."
How Can You Help a Family Member With Aphasia?
"The best thing family members can do is to be an unfailing support system for the patient with aphasia," Dr. Tayim says. That includes attending medical appointments with the patient "because language comprehension can be an issue. Family members are able to reiterate what the physician said at the appointment.
"And family members tend to develop a special code language – that sometimes it's just a look that one partner gives the other, and you know exactly what they're thinking or trying to say. It's very helpful to have family members be the expressive language center that the patient lost."
Sources: Fadi Tayim, Ph.D., Clinical Neuroscience Institute; CNN; NPR; American Speech-Language-Hearing Association