5 Coping Strategies As You Emerge From Shelter At Home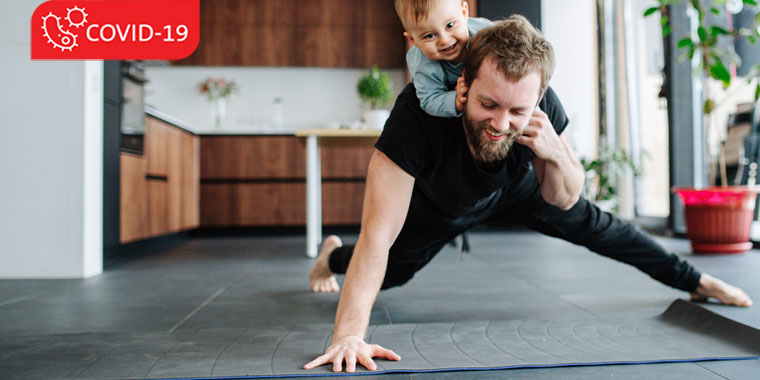 Find Your Perfect Match
Answer a few questions and we'll provide you with a list of primary care providers that best fit your needs.
As government officials and medical advisers contemplate how to re-open states, many Americans are wondering how to wrap their minds and emotions around building a new normal.

Premier Health Now spoke with Fadi Tayim, PhD, clinical neuropsychologist and division chief of the Brain Mapping Center at the Clinical Neuroscience Institute, who offers strategies to help people transition from sheltering at home to resuming life in a more open society.
1. Set a routine.
"Neurologically, human beings — and most animals — thrive on creating an environment that is predictable and structured," Dr. Tayim says. "Even in the midst of a pandemic, our brains will attempt to make sense of chaotic situations by organizing them into different categories, levels of importance, and severity. We want a sense of control and structure to manage our anxiety and sense of uncertainty."

He notes that whether you maintain a routine or establish a new routine for post-lockdown, each is useful in providing a sense of control and structure.

"For example, my power-lifting routine occurred at the same time every weekday at a gym," he says. "I installed a home gym and have continued that routine at home. It not only serves me emotionally and physically, but it provides that sense of routine and structure that my day needs."

Parents who have direct responsibilities with their children's education find it useful to structure that time, he says. "My nieces have live school sessions three times a day to maintain a sense of connectedness and routine," Dr. Tayim says. Both adults and children benefit from a consistent, predictable schedule.

He notes that this period of sheltering at home has provided us with additional time and space. "Don't give in to the pressure to fill up your schedule as soon as stores, businesses, and entertainment venues open back up. Pace yourself," he advises.
2. Reflect on what you truly need.

"During the past several weeks, we have learned to prioritize the things that are most important to us," Dr. Tayim says. "For many, that begins with securing essentials like food, income, and housing."
"As we take stock of what we need and what we can live without, we gain new appreciation for things like family time, working from home, and new ways to stay connected with the world around us. Things that do not functionally serve us will be gradually transitioned out, while things that do serve us will be prioritized. We learn to adjust to change."
3. Continue with social distance but not emotional distance.

"As a doctor, I do not see social distancing dissipating anytime soon. Distancing has certainly taken a toll on society, but it has statistically served a greater purpose," Dr. Tayim comments. He predicts that physical distancing, wearing masks, and practicing more conscientious hand hygiene will continue for many months to come.

"Despite our physical distance, a quick perusal on social media will show an abundance of people FaceTiming with friends and relatives, sometimes in groups of six to 10-plus people," he says. "I had the pleasure of joining my family members across the country to sing happy birthday to my niece who turned 5. This was new for all of us, but at the same time it felt familiar. It was a great way to stay connected, even though we're 2,400 miles away."

He notes that our advanced technology allows us to do video calling often. "Being around others but not near others is very important," Dr. Tayim states. "So many people are taking walks and seeing others without being close to them. For many, that's enough."

"I don't feel isolated because I'm constantly talking to someone," he says. "It's important to determine what works for you."

4. Be present and supportive to those most greatly impacted.

The emotional and economic impact of COVID-19 is widespread, affecting all of us to some extent. Most of us have connections with people who have lost loved ones, lost jobs, or been furloughed.

"The best thing we can do is be present for those who are most impacted," Dr. Tayim says. That could mean donating to a food bank, providing a meal for someone in need, or sending a sympathy card to someone whose relative has passed away.

For people struggling financially, the State of Ohio has economic resources for individuals and families. Dr. Tayim notes that Premier Health has a disaster relief fund for its employees, as do other employers.

5. Choose to meet each day with a sense of unity and optimism.

"We really are all in this together," Dr. Tayim says. "We want to build community. It's also good to maintain an individual sense of responsibility. One person's action can help save other people's lives."

He also notes the slowing down of transportation and production will have a positive impact on the Earth.

Dr. Tayim adds, "Things may not go back to where they were, but maybe that's a good thing. Someone who previously had a long commute may continue to work at home. There could be more opportunity for family time. This is helping people prioritize the things most important to them."


Find Your Perfect Match
Answer a few questions and we'll provide you with a list of primary care providers that best fit your needs.
Source: Fadi Tayim, PhD, Neuroscientist and Director of Premier Health Clinical Neuroscience Institute Brain Mapping Center