Your Surgery During a Pandemic: What To Expect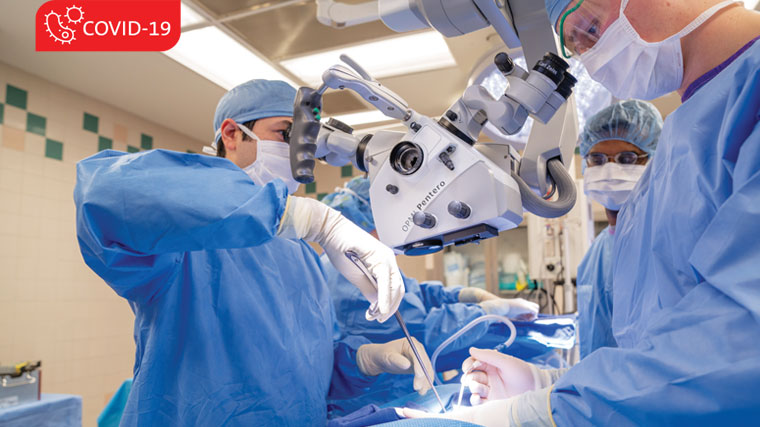 Find Your Perfect Match
Answer a few questions and we'll provide you with a list of primary care providers that best fit your needs.
The COVID-19 pandemic hasn't changed the need for surgery and procedures for many people. But some processes at Premier Health facilities have been altered in order to keep patients and staff safe. Surgeon Michelle DeGroat, MD, explains:
If you need emergency surgery, you'll get a rapid COVID-19 test. If you test positive, you'll still have the surgery if delaying is not an option. But extra precautions will be taken to protect staff and other patients.
If you are scheduled for an elective surgery, you'll be required to get a COVID-19 test four days prior to your procedure. If you test positive, the surgery will be rescheduled for a later date. If negative, you'll be asked to quarantine until the day of your surgery to reduce the chance of exposure.
All medical staff in the operating room will wear a fitted N95 mask for protection. If a staff member cannot be fitted properly, that individual will wear a helmet-type respiratory protective system to ensure the safety of everyone in the room.
Should I Delay an Elective Surgery?
Elective surgeries are those scheduled in advance because you're not in an emergency situation. Typically, they are done to make a repair, or to improve quality of life. Examples would be a hernia repair or gallbladder surgery that are not emergencies; joint replacement; and cosmetic surgery.
Whether or not you should move forward with your elective surgery is a decision made by you and your doctor, says Dr. DeGroat. "Because of the strict precautions Premier Health has taken to protect our patients and staff from COVID-19, you're at a very low risk of getting the virus while at the hospital for an elective surgery," she says. "We've probably taken more precautions to protect you from the virus than stores or any other place you might visit during a typical day."
But if your immune system is compromised, or you have major medical problems, and your doctor thinks it is safe to wait to have the surgery, then you should follow your doctor's advice, Dr. DeGroat recommends.
What Precautions Are In Place To Protect Surgery Patients?
Premier Health takes seriously the health of all of our patients. As the pandemic evolves, so do our visitor restrictions.
Check current hospital visitor restrictions
.
Similar precautions are in place at doctor's offices you may need to visit before or after the surgery. Or ask if you can have your appointment via telehealth to avoid leaving your home.
Find Your Perfect Match
Answer a few questions and we'll provide you with a list of primary care providers that best fit your needs.
Source: Michelle DeGroat MD, FACS, Gem City Surgeons