Keeping Health Golden After 60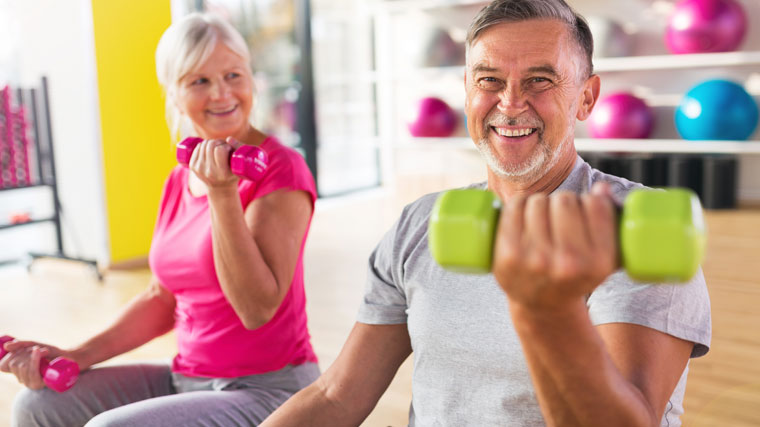 Age has its privileges, so the saying goes. But it also comes with more than its share of health concerns.
Chief among these worries: how to manage chronic conditions you've already been diagnosed with, like diabetes or heart disease; the increasing age-related risk of cancer; and the possibility of losing independence, says Joseph Allen, MD.
The 'Active' Ingredient For Healthier Senior Years
While Dr. Allen has no tips for turning back the clock, he recommends one elixir that can slow the aging process while:
Boosting your physical, mental, and emotional health
Helping you prolong independence
What's the secret? "Stay active, stay active, stay active," says Dr. Allen.
"My patients that do the best, who are in their late 80s, early 90s – I would describe them as spry – stay active. They didn't just retire, sit on the couch and watch TV. They didn't become sedentary."
He adds, "I have a couple of patients in their early 80s who do CrossFit. I tell them, 'I just saw someone 10 years younger than you, and I couldn't imagine them doing that.'"
You can benefit from less intense cardio exercise, too, like walking, swimming, and bicycling. And Dr. Allen recommends weight training, adding, "It doesn't have to be heavy weights."
Before you start an exercise program, though, see your health care provider.
Mental activity is important, too. Hobbies, volunteer work, and getting together with friends and family can help keep your mind nimble.
And many seniors are staying in the workforce longer, some due to finances. Others, Dr. Allen adds, "choose to stick around because they want to have something in their life that drives them. It gives them a purpose to get up in the morning and do the things they enjoy and need to do."
Other Tips For Better Health In Your 60s And Beyond
Make regular appointments with your doctor. By scheduling regular appointments with your health care provider, you can stay on top of changes in your health. That includes managing chronic diseases and avoiding complications.

"Whatever chronic illness you're dealing with – whether that's cardiac illness, or hypertension or diabetes – that's your number one concern," Dr. Allen says.

As an example, he says, "If you take care of your diabetes, you're less likely to have secondary complications such as neuropathy in the feet, which will cause you to fall."

(As a side note, Dr. Allen adds that you can also reduce your fall risk through exercise that strengthens supportive muscles and improves balance, as well as using a walking aid, when needed, or making physical changes to your home such as installing grab bars in the bathroom and getting rid of throw rugs. "Those cause more falls than anything.")

Regular checkups with your physician often include blood work, which can detect changes in blood chemistry. This can signal potential health problems — even some types of cancer — allowing your doctor to address them.


Keep up with screenings. Another benefit of regularly seeing your health care provider is getting reminders for and scheduling important screenings, Dr. Allen says.

Important screenings in your 60s and 70s include, for women, cervical cancer and breast cancer, and for men, prostate cancer. For men and women, cardiovascular and osteoporosis screenings. And for anyone with a history of smoking, lung cancer screenings.


Maintain a healthy diet. "Make sure you're eating right," Dr. Allen advises. "If you don't eat right, you'll put on weight, feel sluggish, and not be as active.

"If you put on too much weight when you get older you become sedentary and you start gaining weight, and your health problems can become amplified pretty quickly."

But, he adds, don't deny yourself a burger, ice cream sundae, or other special treat from time to time. "The goal of coming in and seeing your physician is to keep you on this planet longer, and if we keep you on this planet longer, I want you to enjoy it."


Mind your mental health – not just your physical health. Many people mistakenly believe that feeling blue "is part of getting older," Dr. Allen says. Not true.

When you experience down periods, he recommends, "get in with someone you can talk with, whether that's your primary care doc, a counselor, your minister, whomever you trust. If you start having those feelings, address it quickly.

"If you address it early, there's a much better response rate."

Physical activity can play a role in elevating mood, as well as immersing yourself in a hobby, volunteering, attending social events, and getting out with family and friends.

"People who have better health outcomes tend to have a better social support system," Dr. Allen says.


Be careful with medications. The older you get, the more likely you're taking multiple medications and the more at risk you are of adverse drug interactions or side effects.

To lower this risk, Dr. Allen suggests, "Ask your provider if you don't fully understand a medication you are taking or how to take it properly." Also, share with your provider all medications you are taking, as well as supplements, as they can also impact the safety and effectiveness of your medications.

Some medications, listed in the American Geriatrics Society's Beers Criteria®, are considered more risky for elderly patients. "This can prompt a discussion with your provider about alternative medications or why your provider chose a certain drug for you to be on."
Source: Joseph Allen, MD, Premier Health Family Care of Vandalia