Faster, Higher, Longer: Plyometrics Builds Sports Performance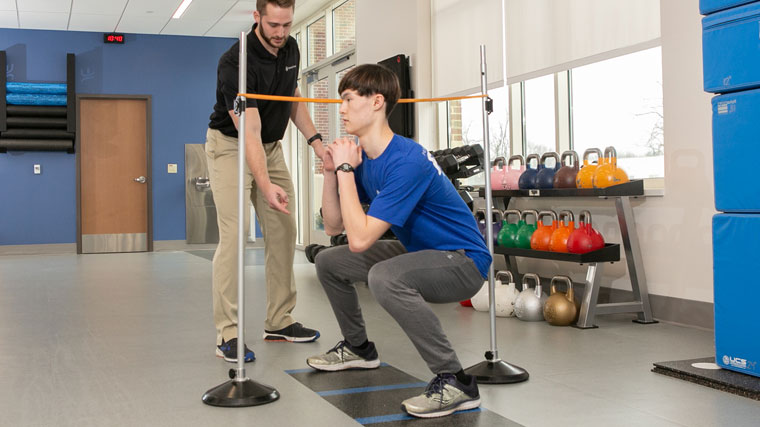 Find Your Perfect Match
Answer a few questions and we'll provide you with a list of primary care providers that best fit your needs.
Improving your game by increasing your speed, endurance, and strength is the goal of plyometrics training. Popular with athletes, the program incorporates targeted exercises that train your body to reach maximum force in the shortest amount of time.
"While everyone is different in their ability, Premier Health's Edge Sports Performance Program incorporates plyometrics to improve each athlete's ability to change speed and change direction," explains Premier Health athletic trainer and instructor Ryan Pearson.
By comparing pre- and post-training assessments, Pearson says Edge instructors routinely witness significant improvement in athletic performance. "As they near the completion of the program, we'll have volleyball players tell us they drastically increased their ability to spike the ball in games, or basketball players whose vertical jump and overall game gets substantially better," says Pearson.
Safety is paramount during plyometrics training. "We never want to put someone at risk. Each exercise is conducted in the safest possible manner," Pearson explains. Edge instructors are certified strength and conditioning specialists. "We focus on keeping participants healthy and free of pain while they learn to improve their performance. Our certification means we are well versed at teaching exercises that won't put someone at risk of injury. We are unique in this way."
The program also is popular with non-athletes who want to improve their strength and balance for everyday activities. "As we age, our muscles lose strength and power, making us more vulnerable to injury. Plyometrics focuses on both, which is why we have so many non-athletes enrolled," says Pearson.
Edge participants range in age from 10 to mid-70s. Because everyone's needs are different, the rate of progress also is different for each participant. "If you're already active before enrolling, you'll see faster progress than if you've never worked out," says Pearson. "If you're not active, we'll slowly increase the intensity of the exercises to avoid pain and injury. Regardless of your ability at the start of the program, you'll feel stronger and more fit by the end."
In Premier Health's Edge Sports Performance Program, most sessions last four to six weeks and take place at Miami Valley Hospital North or Miami Valley Hospital South, or through Upper Valley Medical Center.
Find Your Perfect Match
Answer a few questions and we'll provide you with a list of primary care providers that best fit your needs.
Sources: Premier Health Athletic Trainer Ryan Pearson AT; Preventing ACL Injuries, Healthwise Ryan Pearson, Athletic Trainer