Thurman's Story: 'They Helped Me Achieve My Goals' Says Referee
L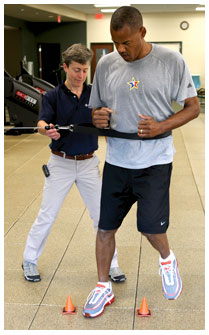 ike many basketball fanatics, Thurman Leggs had dreams of playing in the NBA. When that didn't work out, he did the next best thing: he became a referee. Eighteen years later, "reffing" is a year-round job that keeps Thurman close to the game he loves.
Thurman sustained an injury on the court that threatened to sideline him permanently. "I was reffing an NCAA women's game at Eastern Michigan University," he says. "One of the players passed a ball to the opposite end of the court, and I tried to follow the action by stopping, turning and pushing off on my right foot all in one motion. I heard a grinding sound, and my knee started to hurt right away. I limped for the rest of the game – I'm not even sure how I got through it, but I guess the adrenaline kicked in. By the time I made the three-and-a-half hour drive home from Ypsilanti, the pain was so bad I could barely get out of the car."
The next day, Thurman made an appointment with his family physician, who diagnosed a strained medial collateral ligament. The MCL is one of the four major ligaments in the knee and is located on the inner side of the knee joint. Thurman's doctor recommended rest, ibuprofen and ice packs.
A More Aggressive Approach
"I appreciated my doctor's recommendation, but felt like I needed to see a sports medicine specialist," says Thurman, 56, a West Carrollton resident, who also manages several rental properties and runs a handyman business. "This was the middle of my busy season as a ref – I couldn't afford to be real conservative. So I went online and found the MVH Sports Medicine Center at Miami Valley Hospital South in Centerville. I called on a Friday. I couldn't believe how quickly they got me in."
By the time Thurman arrived for his appointment, he was finding it difficult to walk. The courtesy shuttle that drove him from his car to the building provided welcome relief, and Thurman's positive experience continued inside. "My doctor agreed that I'd strained my MCL, and he appreciated my desire to be more aggressive about my recovery. His recommendation was that I wear a knee brace, begin physical therapy and do exercises at home."
A Key Decision
Thurman was encouraged by this positive outlook but knew he faced an important decision about the rest of the college basketball season. "When you are reffing a game, you are running, stopping and pivoting the entire time," Thurman explains. "My schedule was booked through February with Division I, II and III games, and I didn't want to let my supervisors and fellow game officials down. On the other hand, my knee really hurt, and I worried about my ability to get in position to make the right calls."
Forcing himself to keep the big picture in mind, Thurman "gave back" about half of his regular season games. He hoped that, by working fewer games and resting his knee as much as possible in between, he could return to full strength for NCAA tournament assignments in March.
Thurman began going to the sports medicine center twice a week for physical therapy sessions with physical therapist Sara Dallman. Their first objective was to improve Thurman's mobility, strengthen the muscles and ligaments around the MCL and restore his range of motion.
"Thurman was a very motivated patient and worked hard during physical therapy and at home," says Sara, who has a clinical specialty in sports medicine. "Sometimes I had to remind him to slow down and not push himself quite so hard. Rehab therapy is a step-by-step process, and if you rush it, you can increase your risk for re-injury."
Thurman's knee continued to improve over the next month, but he was still experiencing swelling and discomfort. Two days after his last NCAA tournament game in mid-March, he returned to his doctor's office for an evaluation. He was advised to give his knee 10 more days of rest. If it didn't improve significantly by then, he would need to have an MRI to see what else was going on.
But Thurman didn't feel he had that kind of time. After all, he had a basketball camp to officiate in mid-May and several summer leagues to cover beginning in June. So, with his doctor's blessing, he scheduled an MRI at Miami Valley Hospital a few days later. The results weren't good: In addition to the MCL strain, Thurman had a tear in his medial meniscus, one of the shock-absorbing structures in the knee joint. As a result, fluid was seeping into the knee. That was the main cause of his swelling and pain.
The Surgical Solution
With this information, Thurman was referred to Joseph Rubino, MD, a Premier Orthopedics orthopedic surgeon and associate professor of at WSU Boonshoft School of Medicine. During Thurman's appointment, Dr. Rubino explained that, while surgery wasn't his only option, it would give Thurman the best opportunity for a full, relatively speedy recovery.
"Thurman is like a lot of athletic, active people – determined to recover from an injury as quickly as possible," Dr. Rubino says. "Non-surgical therapies for a torn medial meniscus, such as rest and cortisone shots, would have reduced the pain and swelling significantly. For many people, that would be enough. But not for him."
Thurman was relieved that his knee could be repaired surgically. "Even though my knee had been improving with physical therapy, the pain was preventing me from being the ref I wanted to be," he says. "I told myself, 'Thurman, just have the surgery and come back stronger than ever.' That was my goal."
Dr. Rubino performed the surgery arthroscopically. It involved making two small incisions in the front of Thurman's knee and inserting a catheter in each one – one for a camera and the other to deliver surgical tools. The meniscus tear was relatively large, but the outpatient surgery took only about 30 minutes and was a success.
With his first post-surgical physical therapy appointment a week away, Thurman was anxious to test out his knee. Two days after surgery, he walked a mile. The next day, he rode his stationary bike 10 miles. "My knee felt so good, and I didn't have any swelling – I just couldn't help myself," he says. "My wife kept telling me to slow down. She even says she'd call my mother to tell on me! But I had no pain, so I knew it was safe. When I saw Sara at physical therapy a week after the surgery, she was amazed by how well I was doing."
Thurman resumed his twice-weekly physical therapy sessions, focusing on flexibility, agility and range of motion. "Thurman had been favoring his injured knee before the surgery, and as a result had developed some bad habits, such as not fully extending his leg while walking," Sara says. "We kept making adjustments, re-evaluating his progress and finding ways to get him back to full strength."
These days, you'll find Thurman back on the basketball court. He began reffing games in mid-May and participated in the Big East and Big 10 Conference camps this summer. "I love reffing. If I couldn't do it, I would be miserable and drive my family and friends crazy," Thurman says. "All of the folks who cared for me really took my recovery seriously. They had a personal interest in me and helped me achieve my goals. That's what I call teamwork."
When Does a Knee Injury Require Medical Care?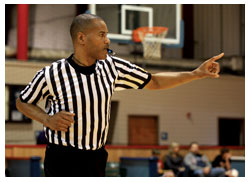 Your knee is the largest joint in your body and one of the most complex. Injuries are common, and can affect people of any age and activity level. Active people are particularly prone to meniscus and ligament strains and tears, which can occur as a result of overuse or a traumatic injury. Other common knee injuries involve the patella (knee cap) and, in adolescents, the growth plate at the front of the knee joint.
A home-care regimen of rest, ice, compression and elevation (RICE) can alleviate many knee injuries.
However, you should consider seeking medical care if:
Your knee swells immediately after an injury, is red or warm
The bones appear deformed
You cannot bear weight on your leg
The pain is intense
You lose sensation below the injured knee
Only 15-20 percent of knee injuries require surgery, say Premier Orthopedics sports medicine specialists. Patients who follow a home exercise regimen and/or undergo physical therapy usually do very well.
Contact Us
Our sports medicine team is ready to help you get back in the game. Call the location nearest you to learn more about sports medicine services in your area.