Melissa's Story: Orthopedic Nurse's Experience Helps Patients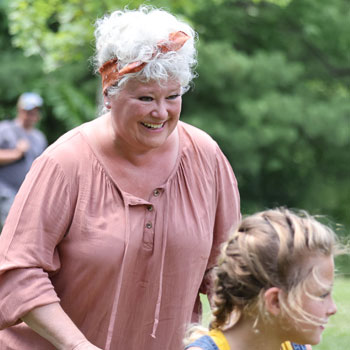 Melissa Reed has been an orthopedic registered nurse at Atrium Medical Center for nearly 25 years.
"Working in orthopedics, that's my mojo," says Melissa.
The 56-year-old Middletown native lives an active lifestyle. She is always on-the-go as a mother of three and grandmother of six.
"They keep me on my toes," explains Melissa. "I wouldn't trade it for the world."
What Melissa didn't expect was becoming a patient.
While working in her home garage, Melissa tripped over her grandchild's toy – causing her to fall and land on her elbow on the concrete.
"I immediately knew something bad happened," remembers Melissa. "I got up, ran inside, and told my daughter that we needed to go to the Atrium ER right away."
Melissa was put in a splint and referred to Anthony J. Checroun, MD, a board-certified and fellowship trained orthopedic surgeon at Premier Orthopedics at Atrium Medical Center.
"Melissa was referred to me two days after she visited the Emergency Room," says Dr. Checroun. "When she came in, she had a lot of swelling and couldn't fully extend her elbow on her own."
An MRI revealed that Melissa had completely ruptured her triceps and needed surgery at Atrium's Surgery Center.
"Melissa's procedure involved making an incision on the back of her elbow," explains Dr. Checroun. "I basically attached the triceps to the olecranon, repaired the ulnar collateral ligament and flexor pronator ruptures to their normal anatomic positions on the humerus."
"It was quite a mess," says Melissa. "Dr. Checroun put my elbow back together by placing all my ligaments and bones back together. He did a phenomenal job."
After surgery, Melissa remained in a splint for two weeks and completed activities at home to help her regain mobility in her elbow.
"Once I got out of the splint, I had my full range of motion back and everything," says Melissa. "I had no pain."
Melissa says becoming a patient in the same unit she's worked in for more than two decades has helped her better connect with the patients she serves every day.
"I can now tell those trauma patients that I've been in their shoes," explains Melissa. "I can tell them from experience that it'll be fine. It's only a temporary situation. It will get better day by day."
"I've known and worked with Melissa for more than 20 years," says Dr. Checroun. "She is always positive. Patients love her. She is a top-notch nurse whom I trust."
Two months after Melissa's traumatic fall, she was back at work in the hospital.
She credits the team at Premier Health orthopedics for helping her regain her strength and return to the activities she loves.
"The surgeons and team at Atrium are so skilled," explains Melissa. "With Dr. Checroun and his team's help, I'm able to make fun memories with my kids and grandchildren."