Lilli's Story: High School Athlete's Skills Enhanced by School Partnership Connections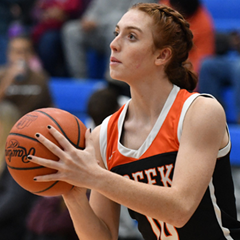 Lilli Leopard has been dribbling a basketball for as long as she can remember. The 16-year-old Beavercreek High School sophomore is the starting center for the girls' varsity basketball team.
"I started playing basketball when I was in third grade," says Lilli. "I just love everything about the game."
Lilli is known to be a leader on and off the court, averaging 10.5 points per game and nearly three offensive and defensive rebounds per game.
"To be a starter so young, I'm really grateful," explains Lilli. "Seeing how far my basketball journey has come is crazy."
Beavercreek High School is one of nearly 40 area high schools where Premier Health offers athletic training services. Athletic trainers work with students and coaches on the prevention, examination, diagnosis, treatment, and rehabilitation of emergent, acute, or chronic injuries.
Additionally, at some of the high schools, sport-specific skill building is made available through Premier Health's affiliation with Enhance-U, a local sports and human performance gym.
The partnership between Premier Health and Enhance-U aims to deliver a high-quality sports performance experience to student athletes.
Beavercreek High School is one of the schools where the partnership between Premier Health and Enhance-U offers student athletes optional supplemental sports performance training.
Like many of her fellow Beavercreek High School athletes, Lilli took advantage of the opportunity to train with Enhance-U.
"I really enjoy working with Enhance-U," says Lilli. "They've helped me so much with my agility, footwork, and speed. It has been so beneficial for me and the team."
Enhance-U provides student athletes with sports and human performance programs. These courses take place at the school and their facilities in Beavercreek and Tipp City. A typical session with Enhance-U consists of supervised weightlifting, speed and agility training, and character coaching.
"We work to make this a positive environment and give each athlete the skills and knowledge they need to have confidence on and off the court or field," says Kendric Ellerbe (Coach Ken), owner of Enhance-U in Beavercreek. "While we aim at making them better athletes, through our specialized programs and tools, we also want them to be even better people."
The experience and coaching provided by Enhance-U has also lowered the likelihood of athletes getting injured during workout sessions.
"We have seen a good reduction in the number of injuries in our athletes," says Kevin Swartz, AT, CES, a Premier Health athletic trainer at Beavercreek High School. "These student athletes are learning the proper techniques and forms that diminishes the chance of them getting hurt during these sessions."
Student athletes work with Enhance-U's coaches throughout the year, including the offseason.
"We have offseason programs for the teams to help them stay focused and healthy," says Coach Ken. "We want to keep them sharp all-year-long."
"The environment with Enhance-U is really open and helpful with any level athlete," says Lilli. "For example, if you're just starting out lifting, they understand that everybody is beginning at different levels."
Coach Ken says partnerships with Premier Health and local schools are also beneficial to him and his family's business in meeting hardworking athletes like Lilli.
"Lilli is such a great kid," explains Coach Ken. "She is the type of athlete who works like she's the last person on the bench. Her mentality and determination are incredible."
Premier Health treats more student athletes than any other health system in the region through partnerships with nearly 40 school districts and the Dayton area's only two Division I universities, the University of Dayton and Wright State University.
Learn more about sports performance and Premier Health's partnership with Enhance-U.