Sara's Story: Years Of Pain Now a Distant Memory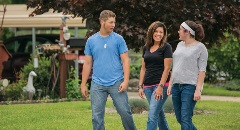 Sara Spears says robotic-assisted surgery gave her children their mom back. For years she battled what doctors thought were stomach-related issues, seeing many specialists and undergoing a half dozen surgeries. Still, the problems persisted. At times she was unable to eat, travel, or participate in the activities of her son and daughter as they grew into their teens.

"I got to the point where I said, 'Is this in my head? What is wrong?'" says Sara, member relations officer for a credit union and mother of Audrey, 18, and Andrew, 16.

In mid-2017, her family doctor suggested she visit her gynecologist, Larry Holland, DO of Premier Women's Center, who had performed a partial hysterectomy for her in 2006. Dr. Holland said he thought endometriosis and scarring were part of the problem, along with pelvic inflammatory disease, Sara says. "Everything was constricting my pelvis, causing all these problems."

Improved Capabilities, Better Outcomes

Dr. Holland suggested a robotic-assisted surgery to remove endometriosis, a painful disorder where tissue that normally lines the inside of the uterus grows on the outside, on Sara's bladder and pelvic sidewalls. She also had extensive scar tissue in her pelvic region that caused her pain.

"He talked to me about this robotic surgery. Dr. Holland has been performing robotic surgery since 2009, and he thought this would be the best way to go," says Sara. She agreed to the surgery at Upper Valley Medical Center after hearing the robot would give the surgeon more access to work in hard-to-reach areas. A potentially shorter recovery period also was a plus.

"Sara had multiple surgeries in the past, and her symptoms never seemed to improve. I believe the new da Vinci Xi® robot allowed me to find areas that were just not present or seen in her prior surgeries," Dr. Holland says. "I could extend the robot arms and completely rotate to work in the pelvic region, as well as her upper abdomen. I would not have been able to perform the surgery with the old Si robot."

The da Vinci Xi® Surgical System, an upgrade to previous robotic surgery capabilities, is available at all Premier Health hospitals.

Sara is glad she gave the robotic surgery a chance. "My kids will tell you they have their mom back. There were times I would cry in pain and not be able to do things. I can feel like me again."

Robotic Surgery Advantages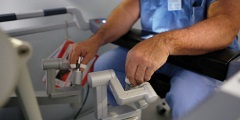 Dr. Holland says Sara's procedure could have been performed with an open or laparoscopic surgery technique. But she would have had to stay in the hospital one to three days instead of going home the same day. And she would not have been back to normal function as quickly. She also would have needed more pain medication.

The advantages of robotic surgery for the patient can include less pain, less blood loss, less scarring, shorter recovery, faster return to normal activity, and less risk of infection, says Dr. Holland.
Among the advantages for surgeons are greater surgical precision, increased range of motion, improved dexterity, enhanced visualization, improved access, and better ergonomics.
Contact Us
When you need surgery, we're here with experience and options. Our surgical teams are committed to providing you with effective, patient-focused care. See a list of our convenient locations or find a general surgeon.